The Philadelphia Eagles have lost yet again.
While their Sunday performance against the Kansas City Chiefs was better than last week, there was still plenty of fault to go around. More penalties and self-induced mistakes have stolen the Eagles' ability to pull out a win, sending them 1-3 into Week 5.
WHAT WENT RIGHT
Jalen Hurts
The second-year quarterback has been getting a lot of heat so far this season, and I think many people forget he's a first-year starter. There are going to be growing pains. But, similar to all the games before, yesterday, he did what he could to keep the Eagles alive.
Hurts accounted for 434 total yards of offense. He had a career-high 387 passing yards and threw for two touchdowns, with a 105.1 passer rating.
Head coach Nick Sirianni stated, "He battled. He made good decisions with the football. He got out of trouble when there was trouble. He made good checks. He made good reads. That's the best I've seen him in practice. That's the best I've seen him in a game since I've been here. Hats off to Jalen; he battled. That's going to be important for us moving forward."
Jalen Hurts was asked whether he agreed with Sirianni that this is one of the best games he's played.

His response was one of the strongest messages I've seen from him or any #Eagles QB since I've started to cover the team: pic.twitter.com/qZoC3J9xRZ

— Eliot Shorr-Parks (@EliotShorrParks) October 3, 2021
DeVonta Smith
Everyone has been wondering if Smith would be all he's cracked up to be, and I think Sunday's game proved he is. The wide receiver had his first 100-plus yard receiving game, finishing with seven receptions for 122 yards. Smith also would have had a touchdown, but he stepped out of bounds preventing Philadelphia from receiving another seven points — something the rookie will have to learn to be aware of moving forward.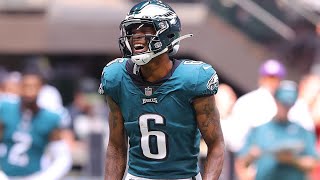 Kenneth Gainwell
Gainwell had three carries for 31 yards and one touchdown, as well as six receptions for 56 receiving yards. The fact that he's able to do both well is increasing his value. In 18 fewer snaps than running back teammate Miles Sanders, Gainwell had one fewer offensive touch.
The Offensive Line
Philadelphia went into Week 4 with three out of their five starters gone. Then just before the game, the Eagles announced that Lane Johnson would unexpectedly miss the game, leaving sole starter Jason Kelce to take the field for his 109th straight game.
With Herbig and Driscoll on the right and Dickerson and Dillard on the left, the offense surrendered three sacks and four penalties (one of which took a touchdown away). Not great gameplay, but not the worst either, given last-minute plans.
Javon Hargrave
Hargrave has outdone himself this season. He is the first Eagles player to have five sacks through four games since Geno Atkins in 2012 and will soon pass his career-high of 6.5. He's undoubtedly the highlight on the defense, but he's going to need help from his teammates soon.
WHAT WENT WRONG
Penalties
Every week the problem continues. This Sunday, three touchdowns were taken off the board due to penalties.
The first potential score came late in the second quarter when Hurts had a touchdown pass to Dallas Goedert taken away due to a penalty on left tackle Andre Dillard. In the third quarter, another three-yard touchdown pass from Hurts to Zach Ertz was negated by an offensive pass interference penalty on J.J. Arcega-Whiteside. And if that wasn't enough, DeVonta Smith stepped out of bounds taking his touchdown off the board.
After the game, Hurts stated, "We control the penalties. We control the little things. It's all magnified in games against good football teams."
Nick Sirianni
Though penalties were placed in their own category, they also fall under head coach Sirianni. The lack of discipline from the team is appalling, as the Eagles could have walked away from Sunday's game with a win.
This week, Sirianni's playcalling showed a slight improvement, but he struggles with game management, wasting timeouts, and settling for field goals. And while he did manage to run the ball more than last week, the crowd at Lincoln Financial Field still broke out in a "Run the ball" chant.
Like Hurts, Philadelphia has to give Sirianni more time, but how much time before someone else helps with dictating the plays?
The Defense
The Eagles' defense went into Week 4 ranked No. 11 by Pro Football Focus, yet they managed to let the Chiefs score 42 points and did not punt the ball once.
Though Kansas City is back-to-back AFC Champs, Philadelphia's defense wasn't good. The linebackers need more talent. Eric Wilson has six missed tackles and falls to the bottom of the rankings, with only one linebacker missing more.
Fletcher Cox didn't log one stat. Cox is the highest-paid player on the team, and he's had just one sack and one quarterback hit in his last eight games. Similarly, Derek Barnett has one sack in his previous nine games and zero in the last seven. Though he doesn't have the most penalties on the team, he has been called for many of them.
Last week Barnett stated, "It's something I need to correct, and I continue to work on. Can't put my team in a tough position, even if it's 5 yards, 10, whatever it is. If I'm hurting the team in that way, we're not focused on the main goal, which is winning. So, I need to correct that issue."
And rounding out the penalties from Sunday was Josh Sweat, who had two against him. Both allowed the Chiefs to convert and score a touchdown on the next drive.
SO, WHAT NOW?
The Eagles are not going to fix all of their problems instantly, but every great outcome starts somewhere and the most obvious is preventing penalties. Though the players may not be able to control Sirianni's play calling, they can control themselves. If they can make points and keep them on the board, Philadelphia may have a leg to stand on.
Hurts stated, "You got every opportunity to learn, right? Every opportunity, everything that you do, you learn from it. We're clearly not there as a football team; we lost. But we're this close, we're this close, and that's something that I believe. That's something that I believe. We have to continue to grow, continue to learn, continue to be 1% better every day."
Their next matchup is Sunday, October 10, against the Carolina Panthers, who are no longer undefeated. The game starts at 1 PM.