The Philadelphia Eagles lost to the Kansas City Chiefs, 38-35, in Super Bowl LVII. The 2023 Super Bowl LVII was be played at State Farm Stadium in Glendale, Arizona, on Feb. 12, 2023.
Philadelphia Eagles Super Bowl 58 Odds 2023-2024
Odds for all the wagers have been last updated on September 25, 2023, and are being taken from some of the top sportsbooks in the industry. That includes DraftKings, FanDuel, Caesars, Unibet, SugarHouse, PointsBet & BetMGM.
After losing to the Kansas City Chiefs in Super Bowl 57, updates have been made to Eagles Super Bowl 58 Odds for the 2023-2024 season.
---
The Best Super Bowl 58 Odds, Promos & Betting offers
The top sportsbooks in PA & NJ are always offering great incentives both for signing up and for special events. If you haven't opened an account yet, make sure you take advantage of these offers to get yourself some extra cash when you sign up (and make your first deposit).
DraftKings Sportsbook – DraftKings offers new customers up to $1050. That includes a deposit bonus of up to $1000 and a $50 matched bonus bet upon your first deposit. This is one of the largest deposit bonuses you'll find.
Caesars Sportsbook – Caesars Sportsbook (formally William Hill Sportsbook) first-time deposit bonus is a straight-up $500 bonus bet. When you make your first deposit, you'll have one shot to use this bonus bet, and if it loses, they'll credit you your money back.
BetMGM Sportsbook – BetMGM has a similar welcome offer to William Hill, but their bonus bet is up to $600. That gives you a little bit of extra wiggle room to win a bit more money with your bonus bet.
PointsBet Sportsbook – PointsBet Sportsbook offers new players a welcome offer of up to $2000. However, keep in mind that the $2000 is split into two $1000 bonus bets – if you deposit enough to qualify for that size. Of course, you can still get a deposit bonus, but it matches what you put in there.
FanDuel Sportsbook – FanDuel Sportsbook also has a generous welcome bonus as they give new customers a $1000 bonus bet. That means that if you deposit and lose your first bet, they'll give you a refund of up to $1000, which is quite nice.
---
Variety of Eagles Super Bowl Odds, Eagles Playoff Odds & NFL Bets
Spread – This is a margin of victory. For example, if the Eagles are -1.5 over the Kansas City Chiefs in Super Bowl LVII, they have to win by two or more to cover the spread. However, since the Chiefs are +1.5, they can lose the game by one point, or win the game, and they cover the spread.
Moneyline – This is simply a bet/prediction on who'll win the game outright. If you don't feel like betting the point spread and worrying about a margin, this type of wager allows you to bet on who you think will win the game. The payout changes, though, depending on the odds. If the odds show a minus sign, like -300, you'd have to bet $300 to win $100. On the other hand, if you see a plus sign such as +250, that means you'd wager $100 to win $250.
Props – NFL prop bets are unique opportunities to wager on specific areas of a game. These bets are made on portions of the event that does not directly affect the game's outcome.
Futures – These are long-term bets that are decided day-to-day. One example would be: what team will win the Super Bowl in 2024.
Live Betting – Live betting is when you bet on the game as it plays out. If the Eagles lead by three points in the middle of the first quarter, there will be live adjusted odds, and you can decide at that point who you want to bet on. If you see that they're playing well, you might want to jump on them. Or, if you see that they're putting forth a sleepy effort, you might want to bet against them. You can watch some of the games and then decide with live betting.
---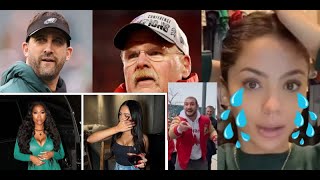 ---
How to bet on the Philadelphia Eagles
Open a sportsbook account – You could go to a brick-and-mortar sportsbook if you felt that was best and most enjoyable for you, but the better move would be to open up an account at an online sportsbook. You get a lot more odds presented to you through the online format. You can do more shopping on odds. You can access more prop bets and overall options for betting entertainment or tests of betting skills.
Top Options: FanDuel Sportsbook, DraftKings Sportsbook, Caesars (William Hill), BetMGM, PointsBet Sportsbook
Opening up an account means that you can regularly place bets using a pool of funds. When the next interesting betting play comes along, you can make the bet you want at the price or odds you are looking for.
Establishing an account with the right sportsbook – one which does things the right way, provides transparency and a user-friendly experience and gives a wide range of odds, props, and information – will make your betting process much more fun, interesting, and possibly advantageous.
Fewer headaches and hassles are important because betting is supposed to be an exhilarating, interesting, fun thing to do, not something cumbersome or irritating. Open an account at an online sportsbook you trust, a place that has been vetted.
Deposit
You will need to make a deposit so that you have to bet on a sportsbook. The process of sports betting continuously involves having a base of funds to draw from.
To fund your account, it takes just a couple of minutes, and you can use all sorts of methods like PayPal, credit card, online banking, or PayNearMe.
Sportsbooks will have different guidelines and thresholds on where and how much to put into an account, and on managing both deposits and withdrawals. Do your homework and be prepared to make the commitment necessary to manage an account.
Also, be sure to take advantage of the deposit bonuses. Every sportsbook offers some type of incentive for you to get started, so make sure you collect your bonus bet or whatever other bonus they are willing to give you.
Find the best Eagles Super Bowl odds
Getting an extra point or half-point on a spread bet – such as the Eagles plus 7.5 points instead of plus 6.5 points – can make a huge difference when making any bet on the Eagles or any other team or game. So where are you finding your favorite lines for Eagles Super Bowl odds?
So many NFL games are decided by precisely seven points, the margin of a touchdown, and a point after touchdown kick. If the Eagles lose a game by seven and that 7.5 line is available on a sportsbook, it's clear that a 7.5-point line offered by your sportsbook helped you win a bet and cash in.
You want and need sportsbooks that will offer the most favorable lines possible. You want variety, diversity, and options. Finding the best odds is such a central component of doing betting research, which leads to the act of sports betting itself.
How to Bet on Eagles Props and Futures Odds
Football betting props are team- or player-oriented bets, usually within games. Will an Eagles receiver catch more than 4.5 passes in a specific contest? Will an Eagles running back rush for a touchdown in this game? Will the Eagles score first? Will the Eagles' first score in this game be a field goal? Those are some of the situations and questions betting props try to get at.
The benefit of betting props is you're wagering on something that doesn't reflect the game's outcome. In other words, you don't have to bet on who'll win the game or cover the point spread; this is focused on player performance.
Futures odds aren't about games, but full seasons. Futures odds pertain to long-term bets that are decided off in the distance, so your money is locked up for quite some time.
For example: will a player win the 2021 NFL MVP Award? Will a player be an NFL Rookie of the Year? Will this Eagle receiver top 1,000 receiving yards in the coming season?
Those are all futures odds, and because resolution (winning or losing the bet) doesn't happen quickly, the payoff for a successful bet is a lot larger than it is for a prop bet or a point spread bet, something confined to a single game or a much narrower range of time.
You are betting on what happens over four months in a futures bet, not on one Sunday. Your chances of being right are low, but if you seize your chances and nail the bet, you're in for a much larger payday.
For example, if you bet the Eagles to win the Super Bowl at the beginning of the season, your odds could be 50/1. While it's hard to hit that bet but if you're right, you'll hit the jackpot!
Eagles Super Bowl 58 Odds Movement
Oddsmakers currently have the Eagles at +900 to win Super Bowl 58. As the lines change we will share the updates…
---
Eagles Super Bowl odds FAQ
How Many Super Bowls Have The Eagles Won?
One. The Eagles defeated the Patriots in Super Bowl LII, 41-33. Backup quarterback Nick Foles – in for an injured Wentz – won Super Bowl MVP to deliver the birds their first Super Bowl title.
Tom Brady, who just won his seventh Super Bowl title this past weekend with the Tampa Bay Buccaneers, guided the Patriots to a go-ahead touchdown with 9:22 left in that game.
New England led 33-32. However, Foles returned with a seven-minute touchdown drive capped by a pass to Zach Ertz for a 38-33 lead.
The Eagles then sacked Brady and caused a fumble. They got a field goal for the 41-33 final margin and celebrated their long-delayed arrival at the pinnacle of pro football.
When Was The Last Time They Played In A Super Bowl?
The Eagles lost to the Kansas City Chiefs, 38-35, in Super Bowl LVII. The 2023 Super Bowl LVII was be played at State Farm Stadium in Glendale, Arizona, on Feb. 12, 2023
Super Bowl LII in February 2018 against the New England Patriots in Minneapolis, Minnesota – WIN
Super Bowl XV against the Oakland Raiders in January of 1981 – LOSS
Super Bowl XXXIX in February 2005 against the New England Patriots – LOSS
Has Philadelphia Ever Hosted A Super Bowl?
No. Super Bowl XLVIII was played in East Rutherford, New Jersey, at MetLife Stadium.
That is as geographically close as Philadelphia has ever been to hosting a Super Bowl.
That game was played in February of 2014, with the Seattle Seahawks beating the Denver Broncos. It is not known when a Northeastern or another cold-weather city will get to host an outdoor Super Bowl.
Have The Eagles Had Super Bowl MVPs?
Nick Foles, in Super Bowl LII. Foles wrote the ultimate fairytale story for the Eagles and their fans but outdueled Tom Brady in the biggest game of his life. Brady was very good in this Super Bowl.
New England's 33 points were more than the Patriots had scored in regulation time in any other Super Bowl. The Patriots scored 34 points in the previous season's Super Bowl, but that was overtime.
The 33 points Brady scored were more than the 31 points he scored with the Buccaneers this past Sunday in Super Bowl LV against the Kansas City Chiefs.
Brady was very good in this game… and yet Nick Foles did outplay him. It was a magical performance and arguably the most improbable of all Super Bowl MVPs in 55 years of Super Bowl history.
Who Are The Philadelphia Eagles Head Coaches To Win A Super Bowl?
Doug Pederson has been fired as Eagle head coach, replaced by Nick Sirianni, but Pederson will always be remembered as the man who finally brought the Eagles their first Super Bowl title.
Dick Vermeil and Andy Reid led the Eagles to the big game but didn't win it. Doug Pederson gained that distinction, and so while he has been fired, he will always be respected and appreciated in Philadelphia.
---
Philadelphia Eagles TOP 10 Lists:
---
Philadelphia Eagles 2020-21 Season In Review
The Eagles had a brutal 2020 season. The main problem was that Carson Wentz – who once was a brilliant quarterback with a very high ceiling – simply didn't play well. Wentz hasn't been the same quarterback since injuries beat him down.
It has been hard for him to regain the confidence, the instincts, and the throwing touch which all made him such a breakout star for the Eagles in the 2017 season.
Head coach Doug Pederson simply could not find ways to get Wentz back on track. Pederson helped guide Wentz to the top of the NFL a few short seasons ago, but one has to remember that process of developing Wentz occurred in part under the watch of Frank Reich, who was the offensive coordinator in that Super Bowl season but then left to become the head coach of the Indianapolis Colts.
Many people in the NFL think that Reich, not Pederson, was the real reason the Eagles' offense did so well. Pederson, as head coach, still had to make a lot of tough and important decisions in that Super Bowl season, but Reich was the one calling the plays and giving structure and guidance to Wentz within the Eagles' offense.
With Reich gone, Pederson fumbled and groped for answers, and he could not find them.
The Eagles, in 2020, finished 4-11-1, a brutal season on its own terms, but also because the 2020 NFC East was as bad as it has ever been in its history.
The winner of the division, the Washington Football Team, finished 7-9. The second-place team in the division, the New York Giants, finished 6-10. The Eagles were last in a terrible division, something they won't live down anytime soon.
The Eagles lost to Washington in Week 1 and then again in Week 17. In between, Philadelphia won only four times: at San Francisco in Week 4, versus the Giants in Week 7, versus the Dallas Cowboys in Week 8, and then against the New Orleans Saints in Week 14.
The Eagles' tie was not a good one. Had they tied the Baltimore Ravens, that would have been impressive, but they lost to Baltimore. Philadelphia's one tie was against the Cincinnati Bengals in Week 3.
Philadelphia wasn't atrocious in the first half of its season. At the midway point, the Eagles were 3-4-1 and – in a division that bad – had a real chance to win the NFC East and host a playoff game. However, Philadelphia went 1-7 the rest of the way.
The Eagles lost 27-17 at the Giants in Week 10, coming off a week of rest. That was the game that set the tone for the rest of the season. Philadelphia then lost at the Browns, at home to the Seahawks on Monday night, and sure enough, the Eagles were 3-7-1.
A turning point – not for the season but the franchise – came in Week 13 at the Green Bay Packers. Pederson put Jalen Hurts in as the quarterback, replacing Wentz. Hurts was not great, but he wasn't terrible in this game.
As January moved forward, the Eagles chose to fire Pederson and trade Wentz. They turned to the Colts – where Frank Reich coaches – and hired Nick Sirianni as their new head coach. Sirianni learned under Frank Reich in Indianapolis, so the Eagles are betting that they will benefit from Sirianni's knowledge.