Super Bowl LVII is over, with the Kansas City Chiefs beating the Philadelphia Eagles 38-35. We look ahead to the 2023 NFL season with our iggles.com early NFL Power Rankings.
A lot can happen between now and the time the regular season gets underway, but this list will continue to be updated as time goes on. As players are let go and traded, the team's rankings will change dramatically.
Many teams could have new starting quarterbacks, and we still don't know the futures of Jimmy Garoppolo, Derek Carr and Aaron Rodgers. The Eagles still have yet to hire an Offensive & Defensive Coordinator, so there's a lot of speculation in this list.
That said, here's how we see next season's NFL Power Rankings, from 1 to 16.
(17-32 will be added in next week)
NFL Power Rankings – 2023 Season
| RANK | TEAM | INFO | 2022 W-L-T |
| --- | --- | --- | --- |
| 1 | Kansas City Chiefs | The defense needs some upgrading, and they could use another receiver, but this team is still on top of the NFL because of Patrick Mahomes and Andy Reid. | 14-3-0 |
| 2 | Philadelphia Eagles | Jalen Hurts showed he is one of the best quarterbacks throughout the 2022 regular season AND in the playoffs on the biggest stage. They still have one of the best all-around rosters, even if they lose a few players/coaches here and there. | 14-3-0 |
| 3 | Cincinnati Bengals | With Joe Burrow and that passing game, they will be in the Super Bowl mix again next year. | 12-4-0 |
| 4 | Buffalo Bills | If the Bills can improve at pass rush, pass protection and receiver, they should be back in the mix next season. | 13-3-0 |
| 5 | Jacksonville Jaguars | Why the sudden jump for NFL 2023 season? Trevor Lawrence is the real deal and so is his coach, Doug Pederson. | 9-8-0 |
| 6 | Miami Dolphins | Already stacked roster with a GM willing to make big moves and Vic Fangio as defensive coordinator makes them a complete team. | 9-8-0 |
| 7 | San Francisco 49ers | Why the sudden drop? Well, who is going to play QB for them? Plus, they head into 2023 NFL free agency with a less-than-stellar salary cap situation. | 13-4-0 |
| 8 | New York Giants | If the Giants can draft well and land a few bigtime offensive players, Jones & Barkley will be able to lead this team to the playoffs again. | 9-7-1 |
| 9 | Los Angeles Chargers | They have a new offensive coordinator for Justin Herbert, who is only going to get better this season. | 10-7-0 |
| 10 | Pittsburgh Steelers | They just missed out on the playoffs last season with rookie Kenny Pickett at quarterback. Now with the QB on his rookie contract they have the $$ to grow the team around him. They will be dangerous if the right moves are made this offseason. | 9-8-0 |
| 11 | Dallas Cowboys | The Cowboys went into 2022 overrated. But now with an over-the-hill RB, QB who can't come up in big situations and an owner who won't let coaches do their jobs... they won't make the playoffs in 2023. | 12-5-0 |
| 12 | Detroit Lions | This young team will challenge for the division title in 2023. They will only keep improving with more experience. | 9-8-0 |
| 13 | Minnesota Vikings | New DC, Brian Flores will bring a much more aggressive approach and improve this team's defense greatly. | 13-4-0 |
| 14 | Seattle Seahawks | Geno Smith with a lot of young talent coming back can only help this team to continue to get better. | 9-8-0 |
| 15 | Los Angeles Rams | Last season was a disaster, but Sean McVay is back as coach, Matt Stafford should come into the season healthy. They still have a lot of top-level talent. | 5-12-0 |
| 16 | Baltimore Ravens | The Lamar Jackson situation is like a time bomb about to go off. Without a happy Jackson this team is bad. | 10-7-0 |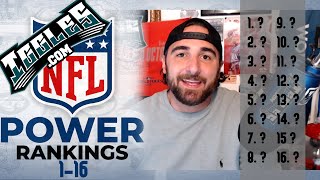 ---
How NFL Teams Will Improve Their Rankings in 2023
In general, here are some strategies that teams will use this offseason to improve their ranking:
Strengthen the 2023 roster: Improve their team by acquiring new talent through the draft or free agency. They can identify their weak spots and look for players who can fill those gaps and make the team stronger.
Develop young players: In addition to bringing in new talent, all NFL teams should focus on developing the young players they currently have on their NFL depth chart. This can be done through providing more opportunities for them to play, investing in their training, and giving them mentorship and guidance.
Improve team chemistry: A team's performance can be affected by the dynamics between its players, coaches, and staff. Teams could work on building stronger relationships and improving communication between team members to create a more cohesive and supportive environment.
Implement effective coaching strategies: Coaching plays a crucial role in a team's success. Any NFL team could look at ways to improve their coaching strategies, such as providing more detailed game plans, better communication with players, and more effective use of player feedback.
Invest in technology and analytics: In today's sports world, teams can use advanced technology and analytics to gain a competitive advantage. All NFL teams have the means to invest in tools such as player tracking technology, video analysis software, and predictive analytics to better understand their opponents and make more informed decisions.