Welcome to the Eagles 2023 NFL Mock Draft page, which will be updated periodically with the release of any crucial player information and more importantly, based on their performance throughout the college football season.
While Philadelphia sits at the top of the NFC right now for NFL's 2022 season, we fear they may still lack a bit of stability and youth going into the 2023 offseason. We also see the front office giving the defense some much-needed attention.
Eagles 2023 NFL Mock Draft Breakdown
Yes, we understand it's the time of year when the "way-to-early 2023" mock drafts start to come out of the woodwork. And as the saying goes, if you can't beat them… join them.
For the sake of our 2023 mock draft projections, let's assume for right now that the Eagles will have the 30th overall draft pick. (Projections will change in the course of the NFL season)
Philadelphia also controls New Orleans' first-rounder, (Pick #10)
1. (First Round Pick- VIA Saints) #10: CB Kelee Ringo, Georgia
James Bradberry is set to hit free agency after the upcoming season, which leaves a noticeable hole beside Darius Slay. Avonte Maddox has shown he works better in the slot, while other youngsters like Zach McPhearson don't show much upside.
Enter Kelee Ringo for the first pick in our Eagles 2023 NFL Mock Draft.
There's certainly a lot to love about him right off the bat:
He's young at 20
At 6'2″ and 205 lbs with a long frame, he has the versatility and physicality needed to be a sizeable defender who often won't be under-matched against bigger receivers.
Speed is also a big plus, as he clocked a 4.30 40-time. Once again, that allows him to match with receivers and ensure he doesn't fall behind.
While I think Ringo has the skills to be a good player, I think any corner in this spot should be the goal. LSU's Eli Ricks, Texas A&M's Antonio Johnson, and Alabama's Malachi Moore all have intriguing potential that would fit well aside Darius Slay.
Ringo earned the rank of the draft's top CB for many, and he could see a top-10 — or top-five — spot in his future, provided 2022 goes according to plan. But if he does somehow fall for Philadelphia (we can dream, right??) they better be handing in that slip immediately.
---
2. (First Round Pick) #30:
OPTION 1: RB Jahmyr Gibbs, Alabama
Less than a month after he entered the portal, Jahmyr Gibbs joined the Alabama Crimson Tide where as a junior he saw action in 11 games.
He ran for 850 yards on 136 attempts for a 6.3 ypc. (2022)
7 TDs, no fumbles. (2022)
As a receiver: 42 receptions for 378 yards.
Second Team All-American 2021
First-Team All-ACC 2021
Leads all RBs in forced missed tackles on receptions (18)
OPTION 2: EDGE Isaiah Foskey, Notre Dame
With some uncertainty surrounding the outside DL after this season, it makes sense a team that loves to build through the trenches would snatch up some more pass-rushing talent.
In 2021, Isaiah Foskey put up a great year for the Fighting Irish, totaling 10.0 sacks, 9.5 tackles for loss, and 52 tackles. Like Ringo, Foskey also brings size with him at an enormous 6'5″ and 260 lbs.
As FanNation's Ryan Roberts explains, that size trait is what "allows him to make a variety of plays in pursuit, where he has a notable amount of range due to both his tackle radius and explosiveness." Roberts also highlights Foskey's strong hands.
Of course, there are still areas Foskey needs to improve on, particularly with being more disruptive and more aggressive with blocks. But given the possible immediate need, Foskey's more than worth taking on the risk if he's still here.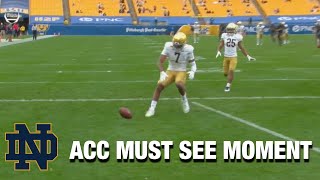 ---
3. (Second Round Pick) #58: RB Zach Evans, Ole Miss
Okay, so hear me out. The Eagles haven't resigned Miles Sanders to a long-term extension yet, and it's possible they simply let him walk after two years of up-and-down play, plus a slew of injuries. After all, this is the most replaceable position in the sport.
So, let's say Sanders does walk.
Kenny Gainwell could take the top spot.
But, I think the Birds need another talented young back that could help make an exciting tandem.
Ole Miss' Zach Evans does just that.
As a sophomore for TCU, Evans put up 648 rushing yards and five touchdowns on 92 rushing attempts, along with 30 receiving yards and four touchdowns. I know they're not exciting numbers, but it's worth noting that Evans was in a timeshare with Kendre Miller (83 attempts) and Emari Demercado (96 attempts).
Evans' size isn't a standout at 5'11", but his explosiveness and tough mentality are what truly make him worth watching, while his speed allows him to hit gaps and make big plays.
Additionally, in a run-friendly offense that saw three players total 100 attempts each last season, Evans should have more than enough time to display his talent while showing he's capable of solid output.
While a more bruiser-type back (similar to Jordan Howard) might be ideal here for helping compliment Gainwell's size and speed, Evans seems more capable of carving out an RB 1 (or at least RB 1A) role than Gainwell.
---
4. (Third Round Pick) #88: S Ronnie Hickman, Ohio State
The safety room is extremely flimsy beyond 2022. Anthony Harris is 30 and set to be a free agent, as is Jaquiski Tartt.
Sure, the team could've probably addressed this position earlier. But like with the linebacker position, safety is often neglected in the draft and instead replenished through free agency (such as Malcolm Jenkins, Rodney McLeod, Harris, etc.)
We'll assume that's what they do in 2023, but adding youth depth isn't a bad idea.
Hickman, a New Jersey native, stands at 6'1″ and 205 pounds. In 2021, he had 92 tackles and two interceptions.
For the Buckeyes, Hickman has seen time as both strong safety and a safety/linebacker hybrid (sorry for the Nate Gerry flashbacks!) and will head into the season as a free safety.
The experience across the field is always a plus and allows him to match up with virtually anybody.
As Pro Football Network notes:
"Hickman's physicality and explosiveness are two traits that help him to excel while defending, and physicality is always needed. Hickman has enough potential for the Eagles to take him while still adding some veterans into the mix."