Each year, the Philadelphia Eagles seem to struggle with their salary cap. More times than not, it looks worse than it is before restructuring contracts. However, due to lousy draft picks in 2020 and poor deals by general manager Howie Roseman, the front office is still reaping the repercussions.
Historically speaking, the salary cap increases each year. In fact, 2011 was the only year it decreased — until 2021. Due to revenue loss from the COVID-19 pandemic, the salary cap for the 2021 season is $182.5 million (down from $198 million in 2020). Fortunately, the Eagles brought $22.7 million in cap space from the 2020 season resulting in an adjusted salary cap of $206.9 million.
After an offseason full of releases, trades, and restructured salaries, the Eagles have finally dug themselves out of the hole. As of October 12, 2021 Philadelphia currently has $16.45 million in cap space, according to Over The Cap. Only time will tell if Roseman will use this reserve to acquire new players via a trade before the November 2nd deadline.
Highest Paid Eagles Players 2021 – Top 10:
Below is a look at what the top 10 highest paid Eagles players will make during the 2021-2022 season, including salary and bonuses.
Fletcher Cox — $12,916,409
In 2016, Fletcher Cox signed a six-year contract extension worth $103 million with $63 million guaranteed.
He was set to go into the 2021 season with a base salary of $15,000,000 and bonuses worth $8,879,939; however, on September 11, the Eagles restructured his contract. Roseman converted $13.95 million of Cox's base salary into a signing bonus, creating $11.14 million in cap space.
Though, the defensive tackle would have made $23.9 million this year, Cox still remains #1 on the list. There was much controversy as he remained stat-less in Week 1-4, but he clocked his first sack against the Carolina Panthers during Philadelphia's Week 5 victory.
Zach Ertz — $12,721,500
Similar to Cox, Zach Ertz began his NFL career as an Eagle and his hope has always been to retire here.
Before the 2020 season, contract extensions with big paydays were given to tight ends across the league — namely, George Kittle of the 49ers and Chiefs' Travis Kelce. Ertz wanted a piece of the pie too, but the extension never came. He then played one of the worst seasons of his career, later becoming emotional when questioned about potentially leaving Philadelphia.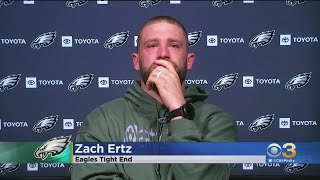 Before the 2021 NFL Draft, there were rumors again that Ertz would be worked into a trade, however, no deal was made.
In early September, Ertz spoke to the media for the first time since his offseason "farewell" in January, stating that he had mended his relationship with the Eagles and that he is "excited to be here." Ertz has played alongside teammate Dallas Goedert who is also in the last year of his contract.
Lane Johnson — $11,056,498
First signing with the team in 2013, he signed a six-year contract extension worth $63 million with $35.5 million guaranteed in 2016, becoming the highest-paid right tackle in the NFL. The Eagles revised his contract again in 2019; a four-year $72 million deal with $54.6 million guaranteed. He is now the highest-paid offensive lineman in the NFL.
There was entirely no way the Eagles were cutting Johnson. His contract was restructured on August 2, and after a series of injuries last season, he was excited to join his team.
Johnson played in Weeks 1-3, unexpectedly missing Week 4 against the Kansas City Chiefs due to a personal matter. He also missed Week 5. It is unclear whether Johnson will return this year and no one has commented any further on his situation.
Brandon Graham — $7,988,000
Graham has also been with Philadelphia since the start of his NFL career. In 2019, he signed a three-year, $40 million contract extension. This past season he secured his first Pro Bowl.
Earlier this offseason, the Eagles restructured his contract to help with the salary cap. Graham will make a base salary of $1,075,000 and $6,913,000 in bonuses. This helped save the team approximately $9 million.
In Week 2 against the San Francisco 49ers, Graham was carted off the field with an ankle injury. He took to social media following the game hinting at his season-ending injury. It has since been confirmed that Graham suffered an Achilles rupture.
We still about to shock the world! I will just be leading from the sidelines this year working to be great for 2022. Appreciate all the love and now it is time for guys to step it up. U have to find the treasure in every situation! #eagles

— Brandon Graham (@brandongraham55) September 19, 2021
Brandon Brooks — $7,014,235
In 2016, Brandon Brooks joined the Eagles, signing a five-year, $40 million deal. His contract was extended in 2019 through the 2024 season and came with a $54.2 million salary.
Brooks was named to the Pro Bowl in 2017, 2018, and 2019. Given his success in Philadelphia, the Eagles would be senseless to even think about parting ways with him. On March 12, 2021, his contract was restructured saving the team $7 million in cap space.
Along with Graham, Brooks was also injured during the Eagles' Week 2 loss to the 49ers. In the second-quarter, he left early with a chest injury. Luckily, the pectoral strain is not season-ending; however, Brooks remains on the IR list for now.
Darius Slay — $6,610,000
Slay was traded to the Eagles in 2020 in exchange for a third-round and fifth-round selection in the 2020 NFL Draft. He signed a three-deal worth $50 million, with $30 million guaranteed.
On March 5, 2021, Slay's contract was restructured. The Eagles saved $9.14 million in cap space. Slay will now enter the 2021 season sporting a new number – No. 2.
He had a remarkable game against the Carolina Panthers in Week 5, making two interceptions.
Javon Hargrave — $5,792,000
Hargrave, who was previously with the Pittsburgh Steelers, joined Philadelphia in March 2020. He signed a three-year $39 million contract. He completed 38 total tackles and 4.5 sacks in midnight green.
Similar to his teammates, his contract was also restructured in early-March. This move saved the Eagles $9.4 million.
This season, Hargrave has been the heartbeat of the Eagles' defense. In five games, he has recorded six sacks and is just 0.5 sacks shy of his single-season career-high. Hargrave is likely on his way to the Pro Bowl this season.
Jason Kelce — $5,574,000
Kelce can't seem to part ways with the Eagles and fans throughout Philadelphia are thankful for that. In March, the center took to social media to announce that he is not retiring and will return for the 2021 season.
According to NFL's Ian Rapoport, Kelce was reportedly supposed to be paid $9 million fully guaranteed with the potential to make $12 million. However, his contract was restructured to serve as a one-year deal.
The 33-year-old has been with the Eagles since he was drafted in 2011. He is a four-time Pro Bowler, playing in over 100 consecutive games.
DeVonta Smith — $3,662,071
A newcomer to the list. Wide receiver DeVonta Smith was selected as the No. 10 overall selection in the 2021 NFL Draft.
From Alabama, he was awarded 14 honors, including the Heisman Trophy Award during the 2020 season. He finished his collegiate career with 235 receptions on 3,965 receiving yards and 46 touchdowns.
Known as the "Slim Reaper" due to his small build, Smith is already gaining popularity among Philadelphia fans who will make his professional debut in 2021.
On June 3, 2021, Smith a four-year contract with the Eagles. The deal is worth $20.1 million fully guaranteed with a $12.6 million signing bonus. There is also a fifth-year option which is standard for first-round selections.
Prior to Smith's contract, Andre Dillard held the No. 10 spot on the list.
Smith started the 2021 season as Philadelphia's #1 receiver. He is now one of 13 players in NFL history to have 25+ receptions and 300+ yard through their first five games.
Andre Dillard — $3,374,076
Landing the No. 10 spot is left tackle Andre Dillard. The Eagles drafted Dillard in the first round of the 2019 NFL Draft. He played all 16 games as a rookie, allowing 25 pressures on 183 pass-blocking passes and 6.5 sacks.
Dillard was set to start left tackle the following season (2020), but endured a season-ending injury before the year began. Rugby-turned-football-player Jordan Mailata took Dillard's place on the field and became a standout, earning the left tackle position for the 2021 season. After Mailata went out with a knee injury in Week 2, Dillard came back to replace him and has actually played considerably well.
---
Philadelphia Highest Paid Eagles Players – Recap
Fletcher Cox — $12,916,409
Zach Ertz — $12,721,500
Lane Johnson — $11,056,498
Brandon Graham — $7,988,000
Brandon Brooks — $7,014,235
Darius Slay — $6,610,000
Javon Hargrave — $5,792,000
Jason Kelce — $5,574,000
DeVonta Smith — $3,662,017
Andre Dillard — $3,374,076
Prior to Carson Wentz's trade to the Indianapolis Colts on 3/12/21, he previously held the No. 1 spot on the list with a salary of $34,673,536. This is now the highest debt in NFL history, totaling $33.8 million in dead money.
DeSean Jackson was also No. 9 with a salary of $10,659,000. The Eagles incurred $5.8 million in dead money when he was released on 2/19/21. Derek Barnett also recently made his way off of the Top Ten List. Though he was on the book to make $10 million, his contract was restructured in early August.