Holidays.
Immediately images appear of days without work. Decadent foods. Cold drinks. Blissful moments with family and friends and sports on the television screen.
So what's better than a holiday?
That answer is simple: a holiday with an Eagles game.
So with many of us still basking in the glow of Memorial Day, it's worth noting that the Eagles play the Dallas Cowboys on Christmas Eve this year. And to get you ready for that, let's take a look back at some of the Eagles' holiday game highlights.
The Eagles own Thanksgiving
It turns out that Turkey Day is the Birds Day. The Eagles have one of the league's best records on Thanksgiving with a winning percentage of .800.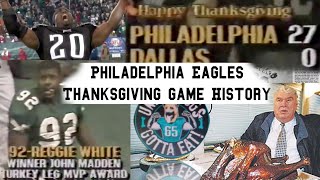 Philadelphia won its first Thanksgiving game in 1939, beating its intrastate rivals, the Pittsburgh Steelers, 17-14 . Here are the Eagles highlights from the team's other Turkey Day games:
2014: Mark Sanchez and LeSean McCoy led a Thanksgiving rout of the Cowboys – a recurring theme – dropping Dallas 33-10. McCoy had 159 yards rushing with a touchdown and Samchez had two touchdowns (one rushing, one receiving) in the win.
2008: Brian Westbrook scored four touchdowns and the Eagles had three interceptions to rout the Cardinals 48-20.
1989: The Bounty Bowl. Apparently, Cowboys coach Jimmy Johnson was so infuriated with Philadelphia after losing 27-0 that he accused Eagles coach Buddy Ryan of placing bounties on two Dallas players. This game was also noteworthy because defensive end Reggie White received the inaugural Turkey Leg honor given out by John Madden, who became a staple of Thanksgiving broadcasts.
1968: Some argue that this game was one of the ugliest ever played on Thanksgiving Day. The field that day is best described as a mixture of mud and muck. The football matched it. The Eagles entered the game 0-11, but ended up beating the Detroit Lions 12-0 thanks to three interceptions by the Lions and four field goals of their own.
Christmas 2006: The Eagles defeat those dastardly Dallas Cowboys
Sixteen years ago, when the Eagles were led by Brian and Brian (Westbrook on offense, Dawkins on defense), Philadelphia took down Dallas on Christmas Day.
Westbrook had 122 yards rushing and Dawkins added an interception in the victory. Jeff Garcia was the Eagles quarterback in that game and threw for 238 yards, with one touchdown and one interception.
It was enough to beat the Cowboys and Tony Romo, giving Philly fans an extra Christmas gift.
Christmas 2017: The Eagles clinch the NFC's No. 1 seed
Just five years ago, Nick Foles and the Eagles clinched the NFC's No. 1 seed on Christmas Day, beating the Raiders 19-10.
Foles, the quarterback who would soon lead the Eagles to a Super Bowl victory, threw a touchdown on the team's opening drive. Philadelphia also scored a defensive touchdown on a fumble return from Derek Barnett.
Dallas looms on December 24th. Will the holiday history repeat itself?
As you know, on the Eagles 2022 schedule, the Birds have another holiday date with Dallas in December. This game falls on Christmas Eve 2022 – a Saturday. At present, DraftKings has Dallas as a 3.5-point favorite.
The game's kickoff is set for 4:25 p.m. which might mess up some of your typical holiday traditions. But as mentioned earlier, the only thing better than a holiday is a holiday with Eagles football.
So tweak your plans and enjoy the game.
Because holiday football doesn't happen all that often.