Week 7 was another loss for the Philadelphia Eagles as they now go 2-5. After having one of the best defenses in the league [led by Jim Schwartz], the Eagles' defensive players are now struggling under new defensive coordinator Jonathan Gannon — and they are finally speaking out.
THE EAGLES DEFENSE TAKES A STAND
Beginning the 2021 season as the No. 13 defense in the league, Philadelphia has dropped to No. 27 over the last seven weeks. They rank dead last in rush attempts allowed and second to last in red zone attempts by the opposing offense.
Defensive tackle Fletcher Cox vented after the Eagles' 22-33 loss to the Las Vegas Raiders on Sunday.
He stated, "We have to play what's being called. We've got to be more aggressive up front. I get paid to sack the quarterback".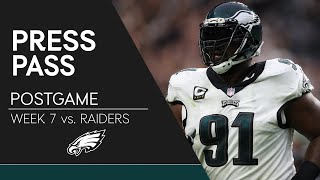 Cox even admitted to confronting the coaches on the sideline. "It was one of those deals, as a player, I didn't agree with what was called on the defense. So I kind of let my frustration go, and that's part of the game."
On Tuesday, Gannon responded, stating, "He's [Fletcher Cox] got good points. I. need to do a better job of that with him. The key thing with that, is together, player and coach, coach and player, how we do that and how we go about that. He's [Cox] had some very good ideas, as our other players have had good ideas, and then it's up to us as the coaches to get that done and execute those things."
Fletcher Cox wasn't the only player to voice his concerns. Safety Rodney McLeod also spoke out, stating, "Time is running out. We're at a point in the season where we're 2-5. Of course, we didn't want to be in this position, but obviously, time is running out. We have to make a stand, and we have to make a push."
In the locker room following the game, McLeod made a speech to the team. "Are you committed to making this run? If you are, come Wednesday ready to work."
Gannon is not only facing criticism in regard to lack of aggression, but many players aren't even playing in their ideal position.
He stated, "There are times where they're probably, no, they're not ideally suited for that spot, but we try to within who's playing, we try to make it to where we're putting those guys in position, for the most part, to get into the skill set that they're most comfortable with."

Gannon continued, "And that's just like any corner or linebacker or safety. Sometimes they get a little bit – some safeties want to play D-path all the time. Well, sometimes you've got to get in the box and play cover three. Some corners want to play man-to-man all the time. Well, sometimes with this call, because of what we're trying to get done with that call, you've got to play cloud. So, it's always a blend of taking our guy's skill set, putting them in that position as much as possible within the scheme of this is who we're defending and how we want to play."
If it hasn't been made clear already, the pieces of the scheme aren't working. In seven weeks, Philadelphia accounts for a total of four games where the opposing quarterback has had an 80% or higher completion percentage — the rest of the NFL combined only totals seven games.
McLeod has been with the Eagles since 2016 and Cox since 2012. In the last six consecutive seasons, Cox has been selected for the Pro Bowl — this year, he only has one sack.
Something's got to give, and it likely won't be the players who have proven success already.