Former Eagles running back Corey Clement is traveling up the turnpike. The 26-year-old is expected to work out with the New York Giants this weekend.
CLEMENT'S TIME IN PHILADELPHIA
Corey Clement signed with the Philadelphia Eagles as an undrafted free agent in 2017. His first career touchdown was against the New York Giants, and later that year, he took the snap in the Eagles' most iconic touchdown, the Philly Special, during Super Bowl LII. Clement also had a team-high 100 receiving yards during the big game.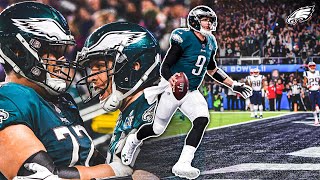 His rookie season was his most prominent and his only full season. Clement completed 321 rushing yards, four rushing touchdowns, 123 receiving yards, and two receiving touchdowns.
After suffering injuries the following two seasons, the Eagles chose not to place a restricted free agent tender on Clement. As a free agent, he signed with Philadelphia for the 2020 season on a one-year deal. He was placed on the reserve/COVID-19 list towards the end of the season, finishing with 75 rushing yards and one touchdown.
THE SEARCH FOR A NEW HOME
Clement is now on the search for a new home after four seasons with Philadelphia. This week Jordan Raanan of ESPN reported that the New York Giants would be hosting the running back for a tryout this weekend.
Due to the COVID-19 pandemic, there was no minicamp in 2020; however, this year, the Giants camp began yesterday and will continue for three days. Clement is one of 30 NFL veterans trying out for the team.
The Giants are looking for depth in their backfield. Saquon Barkley is returning after a season-ending injury last year, and the team signed free agent Devontae Booker.
Gary Brightwell, Sandro Platzgummer, Jordan Chunn, and Taquan Mizzell are also fighting for a spot on the roster.
Raanan also reported that the Giants would be hosting veteran wide receiver Kelvin Benjamin for a tryout this weekend.