One of the best players to ever walk out in midnight green will be hanging up his jersey. Today, the Eagles announced that tight end Zach Ertz was traded to the Arizona Cardinals. In exchange, Philadelphia picks up cornerback Tay Gowan and a fifth-round 2022 draft pick.
A MEMORABLE CAREER IN PHILADELPHIA
The Philadelphia Eagles drafted Zach Ertz in the second round of the 2013 NFL Draft, and the tight end has had an outstanding career ever since.
As a rookie under Chip Kelly, Ertz started in three games. He recorded 36 receptions for 469 receiving yards and four touchdowns. Playing behind Brent Celek, Ertz was used as the primary receiving target, logging more offensive snaps.
In 2016, Ertz signed a five-year contract extension, becoming the starting tight end under new head coach Doug Pederson. He was named to his first Pro Bowl in 2017 — a year he also caught a touchdown reception by Nick Foles to place the Eagles ahead of the New England Patriots in Super Bowl LII.
His first Super Bowl victory was followed by two more consecutive Pro Bowls in 2018 and 2019.
2020 was rough for Ertz as commotion surrounding contract extension discussions became heated. Stat-wise, he didn't have a particularly good year, and multiple rumors regarding a trade never seemed to cease. Many fans thought they wouldn't see him play for the Eagles again after his emotional "farewell" following the regular season, but Ertz was ready to move forward, and he did just that.
Before the start of the 2021 season, Ertz stated, "For me, in my faith, it's all about forgiveness, and who am I not to extend a forgiving arm with everything I believe in my faith? I'm here now. The offseason is over. This is all about the Philadelphia Eagles and being the best player I can be for this team and this city."
Last night, Ertz caught his last touchdown as a Philadelphia Eagle. A 5-yard pass after a 75-yard drive from Jalen Hurts tied the game 7-7. Sadly, the Eagles couldn't pull off a win against the Buccaneers, and it was apparent Ertz knew what his future held. He became emotional entering the locker room for the last time.
Zach Ertz very emotional as he enters the lockeroom pic.twitter.com/vemnkBihXs

— John Clark (@JClarkNBCS) October 15, 2021
Today, he spoke to the media, stating that he doesn't regret anything and this city will always be home.
"One of the things that kind of irked me, the past couple of days is, when this was coming about and people started to know about it, they were like 'Well you know, you're going home, you're going back to California, Julie is home.' This is home, Philadelphia is home. And, that was tough to kind of articulate that to people; that I love this place, I've said it all along. It's been a great opportunity to be here, and I loved it here. I did the best I could, everyday, and I can leave knowing that. This isn't going to be the last you see of me here in this city."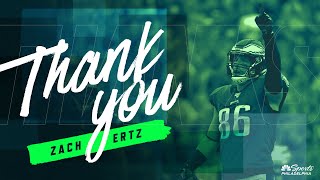 Ertz finishes a remarkable career in Philadelphia. In 139 games, he had 579 receptions for 6,267 receiving yards and 38 touchdowns. In 2018, Ertz set an NFL record for the most receptions by a tight end (116). He is also the last Eagles player to exceed 1,000 receiving yards (1,163 in 2018). His career catches rank second in franchise history, receiving yards rank fifth, and his 38 touchdowns rank seventh.
He states he will now be the biggest Eagles' fan from afar.
WHERE DO THE EAGLES GO FROM HERE?
As Ertz bids a final goodbye to the city he calls home, the Eagles will now move forward with Dallas Goedert as their leading tight end. Goedert, who is on the Reserve/COVID list was unable to play last night; however, he will likely take on a massive portion of the snaps when he returns.
The Eagles also have Jack Stoll, the only 2021 undrafted free agent to make the Eagles' roster, and Noah Togiai, who was signed to the practice squad this past week. Offseason standout Tyree Jackson is also in the wings. The quarterback turned tight end is waiting to be medically cleared after a back injury.
In exchange for Ertz, the Eagles have picked up Tay Gowan. Gowan was a sixth-round pick in 2021. He will now join a packed cornerback group consisting of Darius Slay, Steven Nelson, Avonte Maddox, Zech McPhearson, Josiah Scott, Andre Chachere, and Mac McCain III.
Philadelphia's draft pick count has now reached a total of ten, with the potential for three first-round selections.
As one of the best tight ends in the league and one of the most beloved players to ever play for a Philadelphia sports team, we wish Zach Ertz all the best with the Cardinals. No. 86 will undoubtedly continue to hold a special place here.