If there's been one player (aside from Carson Wentz) who has had consistent rumors surrounding their name over the past year, it's been Zach Ertz.
After months of ongoing drama and turmoil, the veteran tight end has mended his relationship with the Philadelphia Eagles and is here to stay. He is entering his ninth season with the team.
THE YEAR OF THE UNKNOWN
The commotion regarding Zach Ertz began last year after discussions of a contract extension, including, a salary increase went south. The 30-year-old then went on to have one of the worst seasons of his career. He totaled 36 catches for 335 yards and one touchdown. He played 11 games, suffering an ankle injury that required surgery early in the offseason.
However, talks continued. Despite a possible trade pairing with Wentz, a potential deal during the 2021 NFL Draft, and personally allowing Ertz to seek a trade elsewhere, the tight end remained on the roster.
After training camp uncertainties, Ertz reported to the NovaCare Complex and had a strong performance. He is now ready to take on a new season, still an Eagle.
TO FORGIVE AND FORGET
Earlier this week, Zach Ertz spoke to the press for the first time since his emotional "farewell" back in January. Ertz voiced forgiveness and expressed his commitment to the Philadelphia Eagles.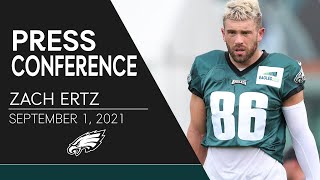 He stated, "Like I've said all along, this is the place I want to be, this is the place I want to retire. Those feelings haven't changed. I'm moving on from everything that happened this offseason. There have been apologies; there have been things that we've mended and, ultimately, I'm here, I'm excited to be here, and I'm excited to be a member of this football team."

Ertz continued, "This organization has believed in me not only these first eight years of my career, but they believed in me probably more so than anyone else did in the league. They were standing firm to what they believed was fair, and, ultimately, I can't fault them for that. For me, in my faith, it's all about forgiveness, forgiveness, and who am I not to extend a forgiving arm with everything I believe in my faith? I'm here now. The offseason is over. This is all about the Philadelphia Eagles and being the best player I can be for this team and this city."
As of today, Philadelphia's depth chart has placed Ertz as TE2, behind Dallas Goedert. Both are going into the last years of their contract.
"I feel better now than I did at this time going into the season physically, mentally, emotionally. So there's no doubt in my mind I can be exactly the player I was, if not better than the player I was; however people talked about me prior to the past year," Ertz said.
Before 2020, Ertz had 525 receptions for 5,743 yards and 35 touchdowns. He's a three-time Pro Bowler (2017-2019) and was with the Eagles during their Super Bowl run in 2018.
He continued, "I wanted to put myself in a situation where I've given so much to this team for the past eight years; they've given me so much for the past eight years; and I love this team, at the end of the day. So for me, it was all about respecting that. This team is going to be a lot bigger than 86 going forward. I love this city too much to 'Burn it down', like some people wanted me to do at times, because, ultimately, I love this place."
There's no doubt that Zach Ertz is one of the best tight ends in the league. Philadelphia is lucky to have him. Ertz will make this ninth season debut with the Eagles on September 12 against the Atlanta Falcons.