Philadelphia Eagles' Howie Roseman may have a way with money, but his selection of players has been sub-par since being promoted to general manager in 2010.
The 2021 season trade deadline was Tuesday, November 2, and in a last-minute exchange, the Eagles picked up cornerback Kary Vincent Jr. Though Vincent Jr. has never played a snap in the NFL, there's still time to see how he pans out. However, there are several players acquired and lost, who have already made an impression — good and bad.
Below is a list of the best and worst trades the Philadelphia Eagles have made over the last ten years.
BEST TRADES
2014: Eagles trade 5th round pick, acquire Darren Sproles (RB)
Acquiring running back Darren Sproles was probably one of the best moves the Philadelphia Eagles have ever made. Sproles began his career with the San Diego Chargers in 2005, eventually signing with the New Orleans Saints in 2011.
In 2014, Philadelphia obtained Sproles in exchange for a fifth-round draft pick. In his first season dressed in midnight green, he ran for 329 yards and six touchdowns, completed 40 catches for 387 yards, and 39 punt returns for 506 yards and two touchdowns. He became the second in Eagles' history for all-time single-season PR yards and the most in the NFL that season. He also was selected for his first Pro Bowl.
In 2015, he was selected to his second consecutive Pro Bowl and continued to dominate on the field. He became injured in 2017, missing the Super Bowl, but re-signed in both 2018 and 2019. He was injured in both seasons, later announcing his retirement.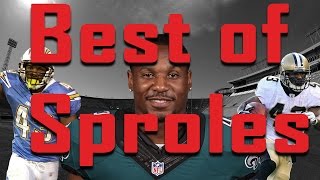 Sproles finished his career with 4,840 receiving yards, 32 receiving touchdowns, 3,552 rushing yards, 23 rushing touchdowns, 2,961 punt return yards, and seven touchdowns. He is tied (with DeSean Jackson) for most career punt return touchdowns.
2016: Eagles trade Sam Bradford (QB), acquire 2017 1st round pick and 2018 4th round pick
The Eagles originally acquired Bradford in exchange for Nick Foles and two draft picks, but he didn't live up to anyone's expectations. In his only year with Philadelphia, he completed only 65% of his passes (346 out of 532). Passing for 3,725 yards and 19 touchdowns, Bradford also had 14 interceptions.
Philadelphia traded him the following season for a 2017 first-round pick and a 2018 fourth-round pick from which they selected defensive ends Derek Barnett and Josh Sweat. Both players have been with the Eagles ever since.
Barnett has 101 career tackles, 19.5 sacks, and three forced fumbles. With one less season, Sweat has completed 66 total tackles, ten sacks, and three forced fumbles. Though each players' performances have been hit or miss, they are Philadelphia's two best options this season on either side of the field, as Graham is out for the remainder of the year. Both recorded sacks in last week's blowout game against the Detroit Lions (Barnett with one and Sweat with two).
2020: Eagles trade 2020 3rd and 5th round pick, acquire Darius Slay (CB)
After seven years with the Detroit Lions, Philadelphia acquired Slay in exchange for a 2020 third and fifth-round draft pick.
Last season, Slay recorded 59 combined tackles, the most since his 2017 season. He came into the 2021 season ranked as the ninth-best cornerback by Pro Football Focus. This year "Big Play Slay" is doing just that and may be on his way to the Pro Bowl. In eight games, he's recorded 30 combined tackles (27 solo) and two interceptions. He's gone up against some of the NFL's best wide receivers and has undoubtedly been a bright spot on the Eagles' struggling defense this season.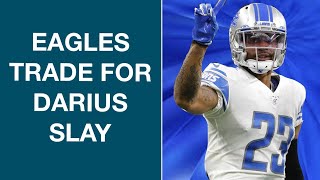 2021: Eagles trade Carson Wentz (QB), acquire 2021 3rd round pick and 2022 2nd round (possible 1stround) pick
It brings so much pain to put Carson Wentz's trade in the "best" category, but it was time to move on. Philadelphia drafted Wentz as the No. 2 overall pick in 2016, and he entered the league with high expectations. Named a potential MVP in 2017, Wentz was unfortunately injured time and time again. In 2019, he essentially carried the Eagles through the season, but the worst was uprooted in 2020.
Wentz was benched for a poor performance as the Eagles finished with a 4-11-1 record, one of their worst seasons in franchise history. Relationships grew sour, and as much as many fans didn't want Wentz in Philly, Wentz didn't want to be in Philly either.
After Philadelphia traded Wentz to the Indianapolis Colts, they acquired the largest debt in NFL history — $33.8 million. But they got a new start.
Though the Eagles are still finding their way with new quarterback Jalen Hurts, Wentz still isn't producing like he should, making the debt almost worth it. Philadelphia also got two draft picks out of the deal. The 2021 third-round pick was traded and used to acquire first-round pick, DeVonta Smith. The 2022 second-round pick can become a first-round pick depending on the number of snaps Wentz plays, or if the Colts make it to the playoffs. Though it's still unknown how this will play out, it certainly keeps things interesting.
WORST TRADES
2015: Eagles trade LeSean McCoy (WR), acquire Kiko Alonso (OLB)
The Eagles drafted wide receiver LeSean McCoy in the 2009 NFL Draft. In his rookie year, McCoy broke the all-time Eagles rookie rushing record with 606 yards, finishing with 637 rushing yards, four rushing touchdowns, and 308 receiving yards.
After Brian Westbrook was released the following season, McCoy took over the starting position. His strength on the field was unmatchable, and in 2011, he tied for third all-time in rushing touchdowns (17) in a single-season by a running back aged 23 or younger. Finishing as the NFL's fourth-leading rusher, he also broke the franchise's single season touchdown and rushing touchdown record previously set in 1945. That same year he was selected to his first Pro Bowl and named to First-Team All-Pro, becoming the Eagles' third-youngest player to do so.
In 2013, he again broke a franchise record, rushing for 207 yards. He was selected to the Pro Bowl again over the next two seasons.
In 2015, the Eagles traded McCoy to the Buffalo Bills in exchange for linebacker Kiko Alonso and what a mistake that was. McCoy was selected to the Pro Bowl for three more consecutive seasons (totaling six).
McCoy then played for the Kansas City Chiefs and the Tampa Bay Buccaneers, retiring as a Philadelphia Eagle this year. He finished his career with 11,102 rushing yards, 73 rushing touchdowns, 3,898 receiving yards, and 16 receiving touchdowns.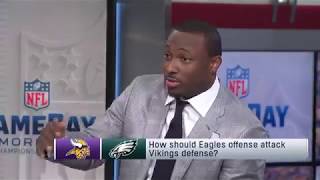 Kiko Alonso, on the other hand, was with the Eagles for one season. In his second game, he suffered an injury and was inactive over the following five weeks.
2018: Eagles trade 2019 3rd round pick, acquire Golden Tate (WR)
After coming off a Super Bowl win, the Eagles were looking for an offensive threat to help Wentz, who was returning after a significant injury. Philadelphia acquired wide receiver Golden Tate, as a mid-season trade from the Detroit Lions. Though Tate performed well the previous two seasons, he just didn't cut it in Philadelphia. He finished with 278 receiving yards in eight games, averaging 9.3 yards per attempt — the lowest since 2015.
Tate did make the game-winning touchdown in the Eagles win over the Chicago Bears, but he struggled to establish himself on the offense. He and Nelson Agholor had similar playing styles, and the Eagles weren't going to keep both of them.
Following the end of the season, Tate signed with the New York Giants and was later suspended for performance-enhancing drugs.
2020: Eagles trade Zach Ertz (TE), acquire Tay Gowan (CB) and 2022 5th round pick
As the most recent trade, this one hurts the most.
The Philadelphia Eagles drafted tight end Zach Ertz in the second round of the 2013 NFL Draft. As a rookie, he was the primary receiving target, logging more offensive snaps than Brent Celek. Ertz became the starting tight end in 2016 which ultimately was the year his career took off.
He was named to his first Pro Bowl in 2017 and caught a touchdown reception by Nick Foles, placing the Eagles ahead of the New England Patriots in Super Bowl LII. Ertz was selected for the Pro Bowl again in two consecutive seasons to follow, and in 2018, he set an NFL record for the most receptions by a tight end (116). The same season, he also exceeded 1,000 receiving yards (1,163) — the last to do so in Eagles' history.
The 2020 season was stagnant for Ertz. His stats fell, and his relationship with upper management suffered. However, he returned for the 2021 season, playing in six games before he was traded. He caught his last touchdown as a Philadelphia Eagle on a 5-yard pass after a 75-yard drive before heading to Arizona. In his first game with the Cardinals, he scored a 47-yard touchdown — the longest of his career.
In 139 games with the Eagles, Ertz had 579 receptions for 6,267 receiving yards and 38 touchdowns. His career catches rank second in franchise history, receiving yards rank fifth, and his 38 touchdowns rank seventh.
The Eagles said goodbye to one of the best tight ends in the league. And all for cornerback Tay Gowan who hasn't played in the NFL yet, despite making the active roster, and a 2022 fifth-round pick.