Three days ago, Philadelphia said goodbye to wide receiver DeSean Jackson. Today, another one bites the dust.
According to NFL Media's Ian Rapoport, the Eagles will release Alshon Jeffery when the new league year begins next month on March 17.
A PROMISING START FOR JEFFERY
Alshon Jeffery joined the Philadelphia Eagles in 2017 after his time with the Chicago Bears came to a close (2012-2016). He signed a one-year, $14 million contract with the Birds. Nine months later, Jeffery signed a four-year extension worth $52 million.
In his first year as an Eagle, the team finished with a 13-3 record, advancing to the NFC Championship Game against the Minnesota Vikings. In that game, Jeffery caught five passes for 85 yards and two touchdowns.
He later caught the first touchdown of Super Bowl LII, finishing with three passes for 73 yards. Jeffery concluded the 2017 season with 57 receptions for 789 yards and nine receiving touchdowns.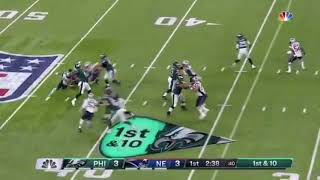 A DOWNWARD SLOPE
In the offseason, Jeffery underwent rotator cuff surgery and missed the first three games of 2018. Despite the injury, it was Jeffery's best year with Philadelphia. He finished with 65 receptions for 843 yards and a 70.7 completion percentage.
His highs were quickly overshadowed by the dropped pass heard around the country. Jeffery dropped a pass from quarterback Nick Foles late in the fourth quarter during a successful drive against the New Orleans Saints in the Divisional Round of the playoffs. Saints' cornerback Marshon Lattimore intercepted the ball, and the Eagles' never recovered, losing the game.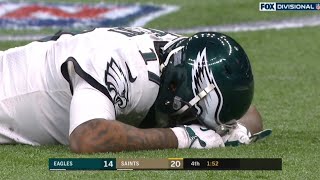 The mistake brought a lot of attention to Jeffery as he focused on coming back in 2019 stronger, stating, "We'll be back next year for sure. One play don't define me, it happens."
Jeffery did in fact come back strong, but his body failed him, succumbing to a calf injury, hip injury, and later a foot injury that would require surgery. He was placed on the Injured Reserve list and didn't return for 341 days, making his debut in Week 10 of 2020.
In 2019 and 2020 combined, he finished with 49 receptions for 605 yards and five touchdowns.
PHILADELPHIA'S SALARY CAP WOES
Jeffery's final year in his four-year contract would come with a $12.75 million salary going into 2021. But, with salary cap overage totaling $52 million, general manager Howie Roseman had other things in mind.
This past January, the Eagles restructured Jeffery's contract to create salary-cap relief. A restructure meant a significant pay cut for Jeffery, but the expectation was to cut him anyway. The goal was to reduce Jeffery's salary to the minimum before the team parted ways to create space to move money around.
The release of Jeffery, who is now 31 years old fits the Eagles' campaign to produce a younger team. Jalen Reagor, Greg Ward, Travis Fulgham, Marquise Goodwin, J.J. Arcega-Whiteside, Quez Watkins, John Hightower, and Deontay Burnett are the Eagles' remaining wide receivers on the roster.