The Eagles have announced the signing of wide receiver Keric Wheatfall, a rookie out of Fresno State that participated in rookie minicamps on a tryout basis.
The 23-year-old Wheatfall, who stands at a tall 6'2″ and 185 lbs, caught 38 receptions for 616 yards and four touchdowns in 13 games for Fresno State last year while averaging 16.2 yards per catch. In three years, Wheatfall had 78 receptions for 1,286 yards and six touchdowns.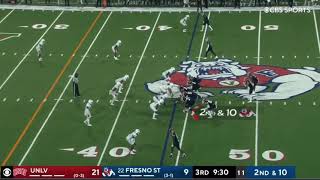 Wheatfall — one of 19 players invited to try out — clearly impressed the Eagles during minicamp, though it's just the first of many grueling steps towards becoming a building block in the team's future plans. Let's take a look at where he shines (and falls short).
Wheatfall's Hands, Catches, And Development Could Make Him An Interesting Prospect
According to Pro Football Network, Wheatfall uses the sidelines well, makes tough over-the-shoulder cases, and frequently shows off his strong hands. Negatives include only playing to one speed, a limited route tree, and his marginal college production. Still, Wheatfall has some potential that could be worth a dart throw.
"Though never super productive, Wheatfall displayed consistent progress in his game and comes with an upside. He's worth keeping on a practice squad this fall with the possibility of future development."
With the addition of Wheatfall, Philadelphia currently has 11 receivers on their roster: DeVonta Smith, A.J. Brown, Quez Watkins, Zach Pascal, Greg Ward, Jalen Reagor, John Hightower, Deon Cain, Britain Covey, and Devon Allen round out the rest.
Unfortunately for Wheatfall, it might be tough to crack the final roster. With Smith, Brown, Watkins, Pascal, and Ward being likely locks, there could be just one or two spots for the six other receivers. If he doesn't make it, Wheatfall could still be a prime practice squad candidate thanks to his upside.