When it comes to undrafted free agents, some people might just write them off. After all, they weren't good enough to get drafted. Most of them are fringe roster players. Yet, there are plenty of diamonds in the rough that could end up contributing in a huge spot (Trey Burton, anyone?)
With the Eagles only selecting five players in this year's draft, a solid amount of their rookies — 12, to be exact — are undrafted. Some of them will likely be among the first cuts, only acting as JAGs.
But one or two could very well sneak onto the roster and end up being a factor down the line. Let's dive in and see who has the best chances of that happening (for your reference, below is the total group of UDFAs).
Eagles have signed twelve undrafted free agents.@novacare | #FlyEaglesFly pic.twitter.com/Emdu2pzLiM

— Philadelphia Eagles (@Eagles) May 6, 2022
The "JAG" Group
DT Noah Elliss, LB/EDGE Ali Fayad, CB Josh Blackwell
You've got to feel bad for Noah Elliss. He has his work cut out for him. I mean, look at the DT group he's fighting against – Jordan Davis, Milton Williams, Fletcher Cox, Javon Hargrave, and Marlon Tuipulotu are all likely locks. It's true the Eagles love depth on the line, but Elliss just doesn't have either the potential nor the current skills to crack this group.
Similarly, Ali Fayad — the MAC Defensive Player of the Year in 2021 — just picked a bad time to join. The linebacker group has been significantly improved, with new additions Hassan Reddick, Kyzir White, and Nakobe Dean looking to make instant impacts.
Fayad, who had 40 tackles and 13 sacks at Western Michigan last season, does stand out in the pass rushing department. Perhaps he beats out JaCoby Stevens or Joe Ostman, but I'm not really expecting it. Could be a solid addition to the practice squad, however.
As for Josh Blackwell, he didn't record a single interception during his four years at Duke. Obviously, INTs don't tell the whole story, but it's still weird. Pro Football Network noted that while he shows flashes, inconsistency was a big killer. I can't really see him making much of a splash during camp and preseason, even in a weak secondary.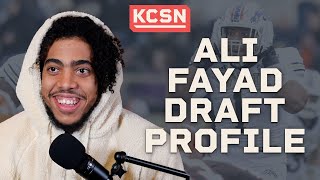 Not Fringe, But Not Standing Out Either
WR Britain Covey, OL Jarrid Williams, OL William Dunkle, OL Josh Sills
Here we have the offensive linemen of the group, and they all have a damn tough time ahead of them. Philadelphia has a loaded starting line, and solid-to-decent backups in Cameron Jurgens, Jack Driscoll, Andre Dillard, and Brett Toth. Dillard could still be traded, which would clear up more room.
Josh Sills might be my favorite of the group, simply for his versatility – he can play all five positions. Considering the amount of injuries the Birds have occurred at the unit over the last few years, he could have the upper hand amongst his competition.
William Dunkle has a lot of size to him — he's 6'5″ and 328 lbs. Obviously, you gotta love big linemen. It helps that he's a guard, because tackle would've been tougher for him to crack with the current situation. Jarrid Williams has similar weight and is even taller at 6'6." He carries solid run-blocking abilities, but his pass-blocking leave less to be desired. He's also 25, much older than most rookies.
Utah's Britain Covey is an interesting one. His size really isn't great at 5'8″ and 170 lbs, and neither are his offensive statistics: he had just 514 receiving yards and three touchdowns last year. Where he really shines is returns — Covey had 427 punt return yards (and two return touchdowns) and 360 kick returns yards (with 208 coming in one game).
Like Williams, Covey is already 25, so the room for potential isn't as great. Though Covey feels more like a classic Bill Belichick/Patriots receiver, perhaps he could beat out Greg Ward or Kenny Gainwell for one of the returner spots.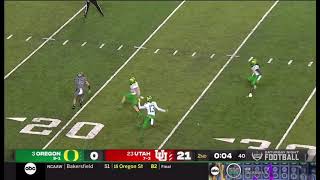 Good Chance If They Have A Solid Preseason
CB Mario Goodrich, CB Josh Jobe, S Reed Blankenship, RB Kennedy Brooks
Clemson's Mario Goodrich, 22, is known for his leadership and solid tackling, the latter of which is always a welcome sight to see here. He had 69 tackles and five interceptions during his four-year career, and was given a massive (by UDFA standards) $217,000 deal by the Eagles.
That kind of deal should suggest he could have an inside track to a roster spot, but the Eagles have given sizable deals to UDFAs before only to cut them, so perhaps it's best not to look into that.
Instead, the Eagles' problems at cornerback could give players like Goodrich and Josh Jobe a fair shot at making the roster. There are a number of guys who the Eagles seem to like as potential backups — Josiah Scott and Kary Vincent Jr., for example — but I can't imagine they have long leashes.
That lack of depth in the secondary also helps Reed Blankenship, who had 390 tackles, eight interceptions, and 24.5 tackles for loss at Memphis State. As the only safety acquired by the Eagles during the draft period, he's got a mammoth opportunity to carve out a role for himself. Of course, he'd need to beat out guys like Jared Mayden and K'von Wallace for that to happen.
On the offensive side, we have Kennedy Brooks. Brooks, who ran for 1,000 yards three times at Oklahoma, is intriguing — at the combine, he ran the 40 in 4.59 seconds, tied for 20th among backs. At 5'11" and 200, he has decent size to boot, though draft profiles say he's not a "home run hitter or likely to offer third down value."
Still, the Eagles have discovered the value of the run game (and hoarding running backs). Kenny Gainwell and Boston Scott have the RB2 and RB3 spots locked up, but RB4 is still open with Jordan Howard unsigned. Perhaps Brooks could nab it from Jason Huntley.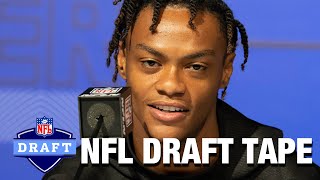 We'll See You On Opening Day
QB Carson Strong
Not only is Carson Strong (36 touchdowns and 4175 passing yards in 2021) the best player among the UDFA group — he had a strong showing at minicamp already — he's the likeliest to make the squad thanks to the Eagles current QB situation. While Jalen Hurts is the clear cut QB1 this year, the backup roles are a little more complex.
Obviously, Gardner Minshew will be QB2, and one of the better backups in the league at that. But trade talks have surrounded him, as he clearly wants another chance at starting. If the Eagles make a Minshew trade during preseason, that likely means the Eagles are impressed with Strong.
Even if the Birds don't trade Minshew, I still like Strong as a developmental QB (at least more than Reid Sinnett). Yes, his injuries scared off draft day suitors, and it definitely makes him more questionable in the future. But if he can stave off those concerns, he could turn into a guy with a deadly arm.
Plus, the Eagles have a history of carrying a potential QB3, like they did with Nate Sudfeld all those years. All in all, it feels like Strong is here to stay, and there's no complaints on my end. The QB factory lives on!