The 2020 NFL season ended poorly for the Philadelphia Eagles, but the team has been on the move since then. Trades, releases, and reconstructed contracts for their most well-known players have shown fans that next season will be much different.
The 2021 NFL Draft is now less than seven weeks away, and the Eagles currently have ten picks to help turn everything around. The most talked-about spot — No. 6.
Here's a look at five possible selections for the Eagles draft pick at the No. 6 position:
Ja'Marr Chase, Wide Receiver
A wide receiver from LSU, Ja'Marr Chase is currently ranked third overall, despite sitting out the 2020 season. Notably named the best receiver in college football, he finished with 1,780 yards and 20 touchdowns on 84 catches in 2019.
He could very well be drafted by the time the Eagles declare their pick, but he would make a solid addition if still available.
Though, the Eagles used their first-round pick on wide receiver Jalen Reagor last season (over Justin Jefferson), help in the position is still needed. Reagor, who was injured early in the season, played inadequately, and the team's leading receiver last season only produced 539 yards. The Eagles also released DeSean Jackson, and Alshon Jeffery is likely headed in the same direction in the days to come.
Chase is not only on the fans' wish-list, but he's a top pick for Eagles' Darius Slay.
"Ja'Marr Chase in that number 6", Slay stated. "I think we should grab him. Very talented guy. He's like Anquan Boldin, but faster. A big guy, likes contact, running through tackles, he can catch the ball. I think that'd be a good fit".
Kyle Pitts, Tight End
Now that Carson Wentz is gone, the Eagles' biggest rumor has been the trade or release of veteran tight end Zach Ertz. While the reality of that is setting in, the Eagles will be looking for a younger alternative.
Kyle Pitts, a Philly suburb native, may be making his way back to the area. Pitts is forgoing his senior year to enter the draft a year early. In three years, he finished with 1,492 receiving yards, 100 receptions, and 18 touchdowns.
The 20-year-old now ranks fifth overall but has been at the very top of many Eagles' mock drafts. He'll provide a top target for quarterback Jalen Hurts, as he caught every pass thrown to him last season.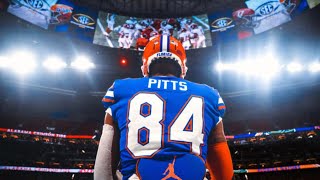 Jaylen Waddle, Wide Receiver
Could the Eagles add a third Ja(y)len to the offense?
Wide receiver Jaylen Waddle finished his collegiate career with 1,999 receiving yards, 106 receptions, and 17 touchdowns. While it may not seem statistically significant compared to others, Waddle suffered an ankle injury missing the majority of last season. In the four games he played in 2020, he averaged nearly 140 yards and one touchdown per game.
In 2018, Waddle played with Eagles quarterback Jalen Hurts while at Alabama. The two completed ten passes and one touchdown for 186 yards.
Earlier this year, Hurts shared his own opinion about his former teammate on "The Adam Schefter Podcast," stating, "He is different. He's a heck of a player. A great friend of mine, a little brother to me. The things he can do with the ball in his hands. His speed, athleticism, high-pointing the ball, all that, there's not anything he can't do."
Justin Fields, Quarterback
If asked a month ago, Ohio State quarterback Justin Fields would have been higher on the No. 6 pick-list, but recently owner Jeffrey Lurie is all in when it comes to Jalen Hurts. While a quarterback competition seems unlikely, no one can ever be too sure when it comes to Howie Roseman's selections.
Fields finished his collegiate career with 5,701 passing yards and 67 touchdowns. Ending the 2020 season with a 70.2 passer rating, Fields ranks higher than Jalen Hurts did in last year's draft.
Though Hurts showed potential last season, there are still many unknowns. It's possible that the Eagles start Hurts, draft Fields, allow him to become more seasoned and reevaluate the position in 2022.
DeVonta Smith, Wide Receiver
The 2020 Heisman Trophy winner — need I say more? The Philadelphia Eagles have drafted three overall previous Heisman Trophy winners. The most recent one was drafted in 1965.
DeVonta Smith finished his collegiate career with 3,965 receiving yards, 235 receptions, and 46 touchdowns. From Alabama, Smith also shares a connection with Eagles quarterback Jalen Hurts. The two have already played on the field together, completing 12 passes and one touchdown for 213 yards.
Smith, who is known for his body control, speed, and ability to create separation between his opponents quickly, resembles former Eagles' player DeSean Jackson (fast forward to 1:45 below).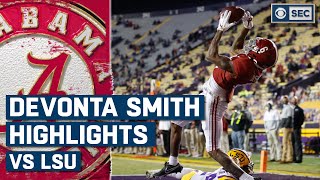 The pick makes sense, but sometimes general manager Howie Roseman's decisions don't.
The Remaining Picks
The coveted No. 6 spot will be the one fans are most excited for, but the remainder of them can't be forgotten.
The Eagles' round two pick (37th overall) is the highest Philadelphia will draft in the second round since they picked Zach Ertz.
A third-round pick was obtained from the Colts after drafting former quarterback Carson Wentz, and last week the Eagles received two compensatory picks, No. 223 and 224.
Let the rebuild begin. The 2021 NFL Draft commences on Thursday, April 29.