The Eagles have four players on CBS Sports' list of NFL top 100 players and, naturally, the top-ranked Bird is the guy who has been playing football for about nine minutes.
The amazing story and legend of Jordan Mailata continue to grow…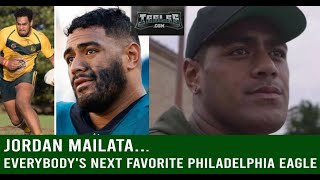 Everybody loves Jordan Mailata
Mailata was No. 75 on CBS sportswriter Pete Prisco's list.
The massive rugby player from Australia, the 2018 seventh-round pick, 233rd overall, is in his fifth season with the Eagles. He has started 24 of 29 games.
Before being drafted, the 25-year-old had never played a down of American football.
He turned his size — 6-foot-8, 365 pounds — and athletic ability into a life he couldn't ever have imagined. The big guy from Bankstown, Australia, is not only playing in the NFL but he has become a wealthy star doing so.
The Eagles signed him to a four-year, $64 million contract on the day before the 2021 season began.
He learned his trade under future Hall of Famer Jason Peters. When Mailata got into games, he immediately was noticeable. What you noticed was that no defensive end could get around him when he pass-blocked.
He also opened holes for the Eagles' excellent running game.
Here is what Prisco said about Mailata:
"The Eagles just rewarded him with a big contract for a reason. He has developed into a good player with a chance this season to move into the top tier of tackles. He is good in pass protection and good in the run game."
THE OTHER EAGLES ON THE NFL TOP 100
85. Darius Slay, cornerback.
Prisco: "He had one of his best seasons in 2021, showing off his ability to lock up in man coverage. With James Bradberry now on board, the Eagles have nice corner combo."
90. Lane Johnson, offensive tackle.
Prisco: "When he's on the field, the Eagles seem to operate much better on offense. He has missed time with injuries, which has hurt, but he's still one of the best right tackles in the game."
94. A.J. Brown, wide receiver.
Prisco: "The Eagles traded to get him from the Titans to liven up their passing game. The only knock on him has been injury issues, but when he's on the field he's a big, powerful receiver."
Prisco selected three Eagles among his 47 honorable mentions:
Dallas Goedert, tight end
Jason Kelce, center
Haason Reddick, edge
That was it. No Jalen Hurts. No Landon Dickerson. No DeVonta Smith. No Fletcher Cox. Nobody else.
THE TOP 10 ON THE LIST
1. Rams defensive end Aaron Donald was picked the No. 1 player. The defending Super Bowl champs have three in the top 10.
Prisco on Donald: "He continues to be the best in the NFL; his ability to take over a game is second to none on any defensive line. He is one of the best inside players of all-time, and might be the best ever when his career is over."
Here is the rest of the top 10 (with comments by Prisco):
2. Aaron Rodgers, quarterback, Packers. "He was the 2021 MVP, which was his fourth. His level of play has not gone down at all. It will be interesting to see what he does without Davante Adams. I wouldn't worry too much."
3. Patrick Mahomes, quarterback, Chiefs. "He wasn't as good last season as in years past, but he remains one of the best in the league. Even a slight dip for him is better than most. It will be interesting to see what he does without Tyreek Hill this season."
4. Josh Allen, quarterback, Bills. "Those days when nearly everyone doubted him seem like a lifetime ago. He has emerged as an MVP candidate year in and year out. His ability to move to run and throw on the move are a big part of the Bills offense. He is now a legitimate star."
5. Cooper Kupp, wide receiver, Rams. "He led the NFL in catches (145) and yards (1,947) last season, establishing himself as the league's best. He also led the league in catches of 20 yards or more and tied for the league lead with nine catches of 40 yards or more."
6. Tom Brady, quarterback, Bucs. "He is coming off one of his best seasons in terms of stats, throwing for 5,316 yards and 43 touchdown passes. When does he slow down? Does he before he retires? He is amazing. And there is no reason to think he won't put up big numbers again."
7. T.J. Watt, outside linebacker, Steelers. "He was the Defensive Player of the Year last season after leading the league in sacks with 22.5, which tied Michael Strahan for the all-time single-season record. Watt is also good against the run, which makes him a double threat on the edge."
8. Trent Williams, offensive tackle, 49ers. "At the age of 33 — he turns 34 in July — he is coming off a season where he was the NFL's best offensive lineman. He is great as a pass protector and a big part of their run-heavy offense with his ability to move people off the ball."
9. Myles Garrett, defensive end, Browns. "He had 16 sacks last season to show that he remains one of the game's best edge players. He can change a game with his ability to get after the quarterback. He plays with speed that tackles have a tough time handling."
10. Jalen Ramsey, cornerback, Rams. "He is a big corner who excels playing man coverage, but has evolved into an all-around corner who can also do good things. He was really good near the line of scrimmage last season and has evolved into a much better zone-coverage player. He is consistently one of the best in the league."
The top-ranked Cowboys are linebacker Micah Parsons at 14, and offensive guard Zack Martin at 16. Dak Prescott is 50th.