In a city like Philadelphia, fans are nothing short of passionate. They're tough, and they persevere. They strive for greatness which often gets confused for disingenuity, and they're fiercely loyal.
Nobody has embodied that more than left tackle Jordan Mailata. Philadelphia's biggest glow-up is now quickly becoming everyone's favorite Eagle.
A POWERFUL PROTECTOR ON A WELL-DESERVED CONTRACT
A rugby player turned NFL superstar, Mailata's talents weren't showcased until 2020 despite making the 53-man roster in 2018. In 15 appearances and ten starts, the offensive lineman ended the 2020 season as a top-15 tackle in the NFL (from Week 11). Mailata led in pass pro snaps (502), becoming the third-best on the team behind Lane Johnson and Jack Driscoll.
After competing for a spot on the line against Andre Dillard, Mailata was named the starter for the 2021 season. The Eagles signed him to a four-year, $64 million contract, including $40.85 million guaranteed.
With a whopping payday, he hasn't disappointed. Mailata has played 100% of the offensive snaps in ten games this season, allowing only two sacks on 336 downs.
He's also become quite the bodyguard — a physical specimen with an even bigger personality.
Fans quickly took to Mailata following a post on social media referencing a tackle to Saints' defensive end Marcus Davenport, marking the location as "IHOP." It was Mailata's way of proving he wasn't going to sit back and allow things to happen to his friends, a true "if you can't handle it, don't dish it" moment.
Jordan Mailata just captioned this photo on IG "When push comes to shove 😈" with the location set as "IHOP."

What a savage. https://t.co/g9PD7y8WwI pic.twitter.com/zUT6vMdmL7

— Josh Tolentino (@JCTSports) November 22, 2021
"I was being cheeky; that's all that was," Mailata stated. "The biggest thing for me was all the extra stuff (Davenport) was going to Jalen. I'm a big boy, I can handle myself, but I think seeing him getting pushed out of bounds and even when Jalen's breaking the pockets and he's throwing the ball, he's getting hit late by No. 92."
But the tackle against Davenport wasn't his only beast-like moment. During Week 1 against the Atlanta Falcons, Mailata plowed through safety Richie Grant. And last week, (while unfortunate), he sent cornerback Darnay Holmes to the hospital with a rib injury.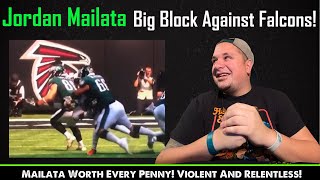 A brickhouse dressed in midnight green.
A BIG GUY WITH AN EVEN BIGGER HEART
At 6-foot-8, 365 pounds, Mailata's strength and determination also comes with a massive heart. The 24-year-old wears his emotions on his sleeve. And before anyone tries to evoke his man card, how many of us remember crying when the Eagles won the Super Bowl?
Philadelphia plays hard, and they carry on even harder.
Following last Sunday's loss to the New York Giants, Mailata was in tears.
"We play games, and when you know the line, and everybody on that team, is giving their all to win the game, and you don't come away with the result that you want, it's tough man," he said. "It's tough. And I think that's what I love about this team. Everybody's a competitor, everybody wants to strive to be great, and that's why we have the locker room that we have."
Sunday's game was the first time they've scored seven or fewer points while rushing for 200 yards since 1957. But for Mailata, "that was last week."
He stated, "We learn from the mistakes, and we're ready to take on the next game because that's the most important one."
Philadelphia thinks so too. At the end of the day, the city doesn't care about how many losses we have, but instead, how many wins.
Luckily, the Eagles acquired a human wrecking ball (with a smile), and without a doubt, fans haven't even seen the best of what Mailata has to offer yet.