When a fan has a GM like Howie Roseman, they should always be ready for the next big trade. And there might be more incentive for him than ever to do so.
Why? Just look at the San Francisco 49ers: they acquired uber-talented (yet oft-injured) Christian McCaffery. At 3-3, they certainly aren't world-beaters, but they could become a formidable NFC foe come January.
So, who should Philly be looking at to help fill some holes and take this 6-0 team to the next level? There are a number of options. Some more realistic, some unlikely, and perhaps some that have no chance of happening – then again, anything's possible!
Cam Akers, RB, LA Rams
This is a wild card pick, and realistically unnecessary given the team's depth at RB, but let's explore it. In case you don't:
a. watch Rams football,
b. play fantasy football, or
c. follow NFL drama,
things have not been going well for Cam Akers and the Rams. The 23-year-old made a miraculous comeback from his torn Achilles, but in 2022, he hasn't done as well, with just 151 rushing yards on 51 attempts and a single touchdown.
Akers' and the Rams' relationship has soured to the point where a trade is probably imminent, so perhaps a break up would be best for both parties. Enter the Eagles.
With Miles Sanders a free agent next year (and no indication of an extension coming), the Eagles could use a backup plan in case he walks. It's clear they don't have interest in a sole workhorse – instead, their speed is more a committee with a clear leader.
I think the Eagles would give the 23-year-old Akers a great situation. With Sanders still here, he wouldn't feel any pressure to immediately produce. And, like mentioned before, it would help to fill a need before there becomes one if he ends up succeeding, as he has another year left on his contract before becoming an UFA.
Depending on the cost, it could be a high-risk, high-reward type deal, and one of the Eagles' depth backs would probably be headed to LA to help clear up any logjams. But perhaps it's worth it to see if Akers can regain some of the talent he once showed.
Albert Okwuegbunam, TE, DEN
You aren't likely to find many problems with depth on a 6-0 team, but tight end hasn't been as solidified as it has in previous years for the Birds.
Dallas Goedert has done exactly what you'd expect since taking over as TE1 – produce while being a reliable target. But in the event of an injury, things drop off pretty quickly.
Combined, Jack Stoll and Grant Calcaterra currently have three catches this year for 65 yards. Considering the place this team is in contention-wise, neither would be a thrilling option to insert in absence of Godert. At the same time, you don't need another starting-caliber TE to compete with Goedert for targets, which is why Albert Okwuegbunam could make sense.
According to ESPN, Albert O. – who started the year as the Broncos' starting TE before losing out to third-rounder Greg Dulcich – has drawn interest and trade offers from several teams. Thus far, Okweugbunam has 50 yards on seven receptions.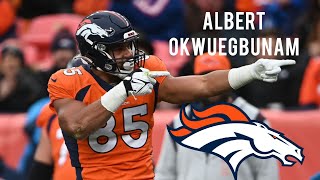 Like Akers, Okwuegbunam is young (24) and controllable (UFA in 2024). He's shown flashes in the past, but more importantly, he's better than the current group of backups the team has now – even if he's lost his footing.
Plus, considering the state of the Denver offense, there's some reasons to believe he could rebound in a different system, especially one headed by an emerging QB.
Out of all the trade ideas listed on here, this could be the most realistic. It's not flashy, but having a serviceable emergency plan with upside is utterly needed for the final stretch and playoffs. Plus, given his falling out of favor, I can't imagine he'd cost an arm and a leg.
Roquan Smith, LB, CHI
The Eagles' LB corps this year has improved massively thanks to the additions of Hassan Reddick and Kyzir White. It's far from the position of weakness it was for so many years, but you can never have enough.
This year, Smith has a team-high 66 tackles to go along with an interception and 1.5 sacks. The 25-year-old is playing himself out of Chicago's price range for an extension, which means da Bears should be trying to get any value for him while they can.
Acquiring Smith would not only help to shore up the already-impressive defense's pass rush and backfield coverage, but send a signal that the Eagles intend to go all-in by acquiring an impact player of Smith's caliber.
While a potential extension for Smith would be a whole other discussion, this is a win-now move that Philadelphia seriously needs to consider given their current talent, easy schedule ahead, and lack of clear contenders in the NFC.