The Philadelphia Eagles are under a lot of pressure going into the 2022-2023 season. After branding themselves as a "rebuild" team, the Eagles finished with a 9-8 record, advancing to the playoffs. Now, following a number of roster changes, Philadelphia is projected to be a Top-10 team in the NFL.
The Eagles may have added immense talent, but that means nothing if the remainder of the team doesn't play well. As we approach the 2022 season, here are three Eagles breakout players to watch for.
EAGLES BREAKOUT PLAYERS
Kenneth Gainwell — Running Back
Eagles' fans have already seen spurts of Gainwell's performance, but something big is bound to happen.
Philadelphia selected him in the fifth round of the 2021 NFL Draft. Despite sitting at third string (behind Miles Sanders and Boston Scott), Gainwell played in 16 of 17 games as a rookie. He completed 68 carriers for 291 yards and five touchdowns, and 33 receptions for 253 yards and one touchdown.
The 23-year-old was one of four rookies in the NFL with 250+ rushing and receiving yards.
Though his status on the depth chart hasn't changed, I think Gainwell will continue to play a dual role as a rush-pass threat.
Sanders has one year remaining on his contract and has not received an extension since the Eagles drafted him. Scott was signed to a one-year contract for the 2022 season. Given the unknown, Gainwell's potential success this coming season could solidify a future with Philadelphia.
Quez Watkins — Wide Receiver
With the addition of wide receiver A.J. Brown last month, Quez Watkins will either have to amp up his game this season or be prepared to go elsewhere.
He's been with the Eagles since 2020. Last season, fans saw Watkins establish himself early on with some monster catches, but it wasn't consistent throughout the year. He played in all 17 games, finishing with 43 receptions for 647 receiving yards and one touchdown.
Then, as WR2, Watkins had a massive 91-yard catch from quarterback Jalen Hurts, and a 79-yard catch for a touchdown.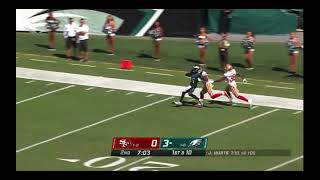 Sirianni will need to see big plays like that in 2022 from Watkins. Moving down a seat to third-string was out of his control, but his future gameplay next season will be up to him.
T.J. Edwards — Linebacker
The Eagles signed Edwards in 2019 as an undrafted free agent, and despite entering his fourth season with Philadelphia, he's always flown under the radar.
Last season, Edwards had a career-high 130 combined tackles; however, I think there is more to come in 2022 from the 25-year-old.
This offseason, Philadelphia added three linebackers (Haason Reddick, Kyzir White, and Nakobe Dean), making Edwards' job a little more difficult. Though he will certainly see decreased snaps, it will encourage him to play better.
Edwards stated, "The more depth you have, the more pieces you have, the more you can do. We've Brough in some really good additions, guys that have really played football at a high level, so I think it just adds more to what we can do. So you look at that and you look at it as competition and everybody's going to get better from that, really."
Competition is something head coach Nick Sirianni has focused on since he took over for the Eagles. And, Sirianni has really taken a liking to Edwards. Philadelphia signed Edwards to a one-year contract extension in November 2021, so hopefully he'll be able to match, if not out-perform this coming season.