Before the 2022 NFL Draft kicked off on Thursday, April 28, fans were wondering if the team would choose a wide receiver for the third consecutive year. And, they did just that, in a surprising move that only Howie Roseman could pull off.
In the first round, after trading up for Jordan Davis, the Eagles traded their No. 18 and No. 101 picks for Tennessee Titan's AJ Brown.
Since entering the NFL in 2019, Brown has been a standout. In three seasons, he's completed 185 receptions for 2,995 receiving yards and 24 touchdowns. He was selected for the Pro Bowl in 2020 and has gotten a head start after working out with quarterback Jalen Hurts this offseason. Brown encompasses accuracy, speed, and youth — all of which Philadelphia has been looking for to strengthen their receiving corps.
However, with the addition of such a promising player, where does that leave the rest of the Eagles' receivers as we head into the 2022 season?
THE EAGLES' 2021 WIDE RECEIVER FLASHBACK
Last season, five wide receivers were signed to the Eagles' active roster — DeVonta Smith, Quez Watkins, Greg Ward, Jalen Reagor and J.J. Arcega-Whiteside. Philadelphia also had John Hightower, who was signed to the practice squad.
Smith was one of two receivers who proved himself to be a true asset. Despite a slow start, he finished the season with 64 receptions, 916 receiving yards, and five touchdowns. Smith broke DeSean Jackson's rookie receiving yard record and completed at least 850 yards since Jordan Matthews in 2015.
With 647 receiving yards, Quez Watkins had some massive catches, including an impressive 91-yard gain. He's shown he's good with his hands and his speed makes him a threat on big plays.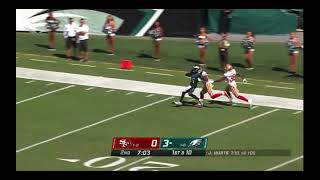 The remainder of Philadelphia's receivers didn't even break 300 receiving yards. As the first-round selection in the 2020 NFL Draft, Jalen Reagor has had lousy back-to-back seasons. He completed 33 receptions for 299 yards last season, displaying issues catching the ball and losing yardage for the Eagles. Trade talks have been rampant, however, there are rumors that make this unlikely according to general manager Howie Roseman.
Greg Ward is on his second stint over three seasons with the Eagles. In 2021, he finished with seven receptions for 95 yards. Ward wasn't initially tendered, but signed a new one-year deal with the Eagles. J.J. Arcega-Whiteside, who helped on special teams, completed 36 yards. Recently, Arcega-Whiteside made a move to tight end, making the job of removing him as a receiver in 2022 an easy one.
During the regular season, the Eagles signed Deon Cain to the practice squad. Following playoffs, Philadelphia then signed Zach Pascal from the Indianapolis Colts. A month later, they signed Devon Allen as an undrafted rookie.
THE FUTURE OF THE EAGLES' WIDE RECEIVER POSITION
Last season, the Eagles ranked 25th in passing, their lowest since 2003. The wide receiver position was no doubt a priority for this year's draft and Philadelphia pulled out all the stops by acquiring AJ Brown.
"I know our passing game…needed to improve (and it) took a big step forward tonight," Nick Sirianni stated after Brown's trade. "I think most definitely this helps our passing game and this helps DeVonta. It's just good for the Eagles."
With the Eagles all in on Smith, Brown will start opposite of him, giving quarterback Jalen Hurts two very viable options when looking down field. Since entering the league in 2019, only two players (Deebo Samuel and Justin Jefferson) have averaged more yards per target than Brown. This should create an ideal setup which the Eagles have been lacking for quite some time. Quez Watkins will likely make the roster as a continued deep threat, leaving Reagor, Ward, and Pascal to compete for a spot.
After the addition of Brown, five receivers aren't necessary this season, but I have a feeling Reagor isn't going anywhere fast. My thought is he's placed on special teams, following JJAW's path. Hightower, Cain, and Allen are either cut or signed to the practice squad.