As the saying goes, good things come in small packages. While this may not fit the mold for all things, it remains to be true for some.
Even before the 2021 NFL Draft, wide receiver DeVonta Smith's size has been at the forefront of many conversations. At six-foot-one, 170 pounds, he's smaller than the typical player at his position. Critics are now left to wonder if the Heisman Trophy winner will be able to keep up among professionals.
In his last two seasons at Alabama, Smith had 3,115 receiving yards and 37 touchdowns on 184 receptions. He was the only wide receiver in SEC history to record four or more touchdown catches in multiple games. Smith also led the country in deep yards and catches (15 for 589). He was also selected as First-Team All-SEC twice, Unanimous All-American, SEC Offensive Player of the Year in 2020, and won the Heisman Trophy.
And he did all of this at the same weight.
However, Smith isn't the first Eagles player to be ridiculed for their size. Many predecessors before him proved doubters wrong, excelling in their position, indicating that Smith can't be written off just yet. Below is a look at five Eagles players who have become successful, showing that size doesn't matter.
SMALL BUT REMARKABLE EAGLES PLAYERS
Tommy McDonald
Height: 5'9"
Weight: 178 pounds
Tommy McDonald was selected in the third round of the 1957 NFL Draft. As a running back, he was switched to wide receiver to replace injured teammate Bill Stribling. In the first game he played, he made a 61-yard reception and a 25-yard receiving touchdown.
McDonald played for Philadelphia for seven years before he was traded to the Dallas Cowboys. In that time, he was part of the 1960 NFL Championship team against Vince Lombardi's Green Bay Packers, catching for a 35-yard touchdown. He was also selected for five Pro Bowls. McDonald finished with 287 receptions for 5,499 yards and 66 touchdowns, becoming one of the best wide receivers in Eagles' history. He continues to lead the franchise with 19.2 receiving yards per catch.
Not only was McDonald inducted into the Hall of Fame, but he is the shortest player ever to receive this honor. Sports journalist and fellow NFL Hall of Famer Ray Didinger wrote an autobiographical play "Tommy and Me," which follows Didinger's campaign to aid in McDonald's induction.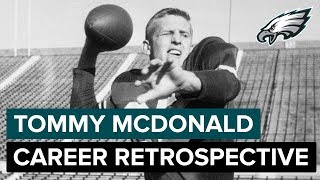 McDonald also played for the Los Angeles Rams, Atlanta Falcons, and the Cleveland Browns. He announced his retirement in 1969 and sadly passed away in 2018.
Darren Sproles
Height: 5'6"
Weight: 190 pounds
Darren Sproles is not only one of the shortest players who played for the Eagles, but in the entire NFL.
The San Diego Chargers drafted the running back in the fourth round of the 2005 NFL Draft. Sproles eventually signed with the New Orleans Saints. He later joined Philadelphia in 2014 in exchange for a 2014 draft pick. Following the trade, Saints' quarterback Drew Brees was quoted stating, "You only see a Darren Sproles type of player come around once in your career."
In his first season with the Eagles, he played 15 games running for 329 yards and six touchdowns on 57 carries. He also made 40 catches for 387 yards and 39 punt returns for 506 yards and two touchdowns. Sproles ranked second on the Eagles' all-time single-season PR yards and the most in the NFL that season, making his first career Pro Bowl.
In 2015, he was elected to his second Pro Bowl, eventually becoming Philadelphia's prime weapon in the backfield. He played for the Eagles during their 2018 Super Bowl Championship and returned for two more seasons before announcing his retirement in 2019.
In Philadelphia alone, he finished with 1,459 receiving yards, 1,331 rushing yards, 1,358 punt return yards, and 21 total touchdowns. He holds the most career punt return touchdowns in Eagles history (tied with DeSean Jackson) and the most receiving touchdowns (32) by a person shorter than 5 feet 7 inches in the NFL.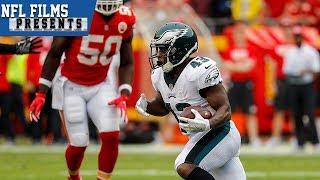 DeSean Jackson
Height: 5'10"
Weight: 175 pounds
If any player is similar to newcomer DeVonta Smith, it's fellow Eagles' wide receiver, DeSean Jackson.
Jackson joined Philadelphia twice — his first stint began when he was drafted in the second round of the 2008 NFL Draft. This was followed by a trade in 2019 from the Tampa Bay Buccaneers.
He recorded 1,448 all-purpose yards and two receiving touchdowns in his rookie season, leading the team with 62 receptions (the most by an Eagles rookie WR). In 2010, Jackson became the first player in Pro Bowl history to be selected as a wide receiver and a kick returner. Year after year, he excelled in his position, becoming known for his speed and agility. Though 2013 was statistically the best season of his career, leading to his third Pro Bowl, he was released from the team.
Jackson's second stint with the Eagles was short but sweet. Despite a number of injuries, the games he played in were impactful. During Week 1 of the 2019 season, he caught eight passes for 154 yards and two touchdowns, placing Jackson at 2nd in NFL history for 31 career touchdowns over 50 yards. The following year, he was activated in Week 16 against the Dallas Cowboys, catching an 81-yard touchdown taking the top spot in NFL history for 25 career touchdowns of 60-plus yards. The touchdown was also his fifth of 80-plus yards, tying the NFL record with Jerry Rice, Lance Alworth, Bob Hayes, and Derrick Alexander.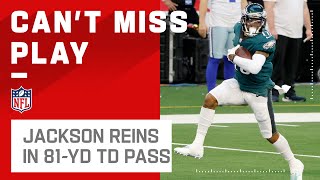 Though Jackson was released just a few months ago, he will go down as one of Philadelphia's best players. He finished as an Eagle with 379 receptions for 6,512 receiving yards and 35 receiving touchdowns.
Jason Kelce
Height: 6'3"
Weight: 295 pounds
Despite the other players on this list, Jason Kelce is the only one who has played for one team — the Philadelphia Eagles. Selected in the sixth round of the 2011 NFL Draft, he became the first rookie in Eagles' history to start all 16 games at center.
Though Kelce lacks true NFL size, he was graded as the best center in the NFL for the 2013 season by Pro Football Focus (PFF). The following year he was selected to his first of what would become four total Pro Bowls. In 2017, he was rated as the best offensive lineman by PFF, later becoming a Super Bowl Champion and gaining national attention while defending his team.
The 2020 season proved to be trying for Kelce, who remained the only starter to play the entire season with a franchise-record of 14 different starting combinations. However, after announcing he would forego retiring, he will now enter the 2021 season with 105 consecutive regular-season starts.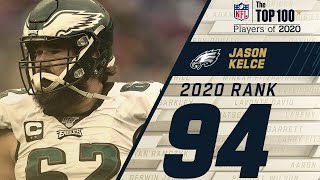 Boston Scott
Height: 5'6"
Weight: 203 pounds
As the youngest player on this list, Boston Scott was the shortest player in the 2018 NFL Draft. The running back joined the Eagles after he was signed off of the New Orleans Saints practice squad in 2018, reminding fans of Darren Sproles. Though he only played two games his first year in Philadelphia, he saw the field for an extended length of time in 2019, scoring his first touchdown.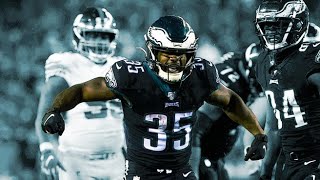 Scott has 619 rushing yards, 416 receiving yards, 958 return yards, and seven total touchdowns in six total starts. As a backup to Miles Sanders, this is only the beginning of Scott's career, who sees his height as an advantage. At 5-foot-6, he can hide behind the linemen, buying him extra time to read the defense before committing to a play.
The 26-year-old signed an exclusive rights tender with the Eagles in 2021 and has since been re-signed for another year.