The Philadelphia Eagles put together a complete effort, perhaps the best all season, in a 30-13 win in Denver Sunday. Facing a streaky Broncos team, the offense built a 10-point lead by halftime that the defense held up, adding a score of their own to close out the third quarter.
Yes, this is increasingly a week-to-week league. The extra regular season may have something to do with that. However, there are still some positive signs for fans to get excited about, and there are things to correct heading into the Week 11 match-up against New Orleans.
Improvements
The win is the team's second in three weeks, which have looked like the best stretch of play so far. Perhaps the decision to run the ball more is a key to that. 40 carries for 214 yards should be good enough to win the NFL any week. Jordan Howard and Boston Scott each gained over 80 yards.
As vital to the run commitment is the style of running the team has chosen – more straightforward runs between the tackles. Scott and Howard got into free space multiple times for big runs. They won't outrun most guys on the edge but they don't have to. It's hard to chase Jalen Hurts around when dudes like Jason Kelce and Landon Dickerson push around DLs like shopping carts. The Eagles had possession for almost 35 minutes.
Hurts probably played the best half of the season and looked very good in his throws. It's easier when pass rushers are too tired to go after you. I saw some improvement in his throwing in motion. The touch on his passes were really good too, especially the first TD to Smith on the boundary of the end zone. That connection will go far to build Hurts' confidence and keep defenses guessing.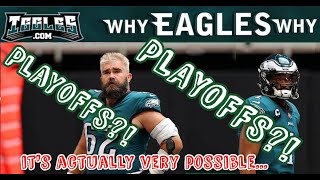 The Eagles defense managed to not get picked apart by an AFC West quarterback! Great job everyone! Bridgewater only went 22 for 36 throwing but just 212 yards (Hurts had 172 on 16 of 23 passing). Most importantly, they managed to GET OFF THE FIELD, limiting Denver to 1 of 11 on 3rd down, along with two fourth-down stops in the red zone, one resulting in Darius Slay's scoop and score.
The Eagles are a ragingly inconsistent team. However, they are starting to look and play with some conviction and whatever "seeds" Coach Sirianni has planted may be starting to bloom. Winning helps. Coming off a game against the Chargers in which they were in but lost late, response is critical. They went on the road and physically dominated Denver on all sides. They blocked a FG up 20-13. Six drives that saw Denver inside Philly's 25 created just 13 points. The results are starting to match the effort.
"Coachable Moments"
I don't know if we can get better linebacker play this season. Opposing offenses can pick on that group on the ground and in the air. Jonathan Gannon has to scheme better to cover that group's deficiencies and play to their strengths. The rush Alex Singleton had to hurry a throw late needs to happen more often from the edge.
Bridgewater only got sacked once. The Eagles have one sack in four home games. Facing Trevor Siemian might help that number but we like watching QBs go down. The d-line played better against the run. They'll need to bring that focus against the Saints, especially if they've got back Alvin Kamara.
I still can't tell what exactly Nick Sirianni does that's particularly genius. Having the QB in shotgun when switching centers, as they did in the 4th in 1st and goal, isn't a great idea and invites the ground ball snap Nate Herbert delivered. Seriously, fundamentals. The adjustments have been better, especially with the simplified offense, but the dumb stuff needs to be cut out.
The Eagles still managed seven penalties for 89 yards on the day, far more than Denver. Three penalties gave Denver first downs. The decision making needs to be better. On the flipside, maybe in homage to Mike Shanahan and the old Denver run style, someone could have worked in a chopblock or painful response to the hit that sent Dallas Goedert to the quiet room. Disappointing that didn't draw a flag.