Philadelphia's focus has been on quarterback Jalen Hurts winning MVP this season, but what about the man who guided him there?
Now in his second year as head coach for the Philadelphia Eagles, Nick Sirianni is one of the strongest contenders to win Coach of the Year for the 2022-2023 season. As of last week, Sirianni led a group of six coaches with +125 odds, per BetMGM.
Nick Sirianni (Philadelphia Eagles): +125
Kyle Shanahan (San Francisco 49ers): +200
Brian Daboll (New York Giants): +350
Doug Pederson (Jacksonville Jaguars): +1000
Zac Taylor (Cincinatti Bengals): +2000
Dan Campbell (Detroit Lions): +3000
Though some of the landscape has changed over the last couple of months, Sirianni has led the group for quite some time. Leading the league's best football team, is the Eagles record enough to keep him in the top spot?
COACH OF THE YEAR FAVORITE: NICK SIRIANNI
Last October Nick Sirianni met with the media after another loss, discussing the progress that Philadelphia was making despite what fans were seeing. The head coach talked about roots of a flower becoming the foundation, stating that the Eagles would bloom soon enough. No one believed him, and most mocked him, but it turns out he was right.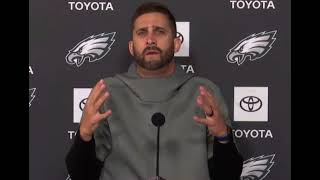 Since then, the Eagles have won 75 percent of their games (21-7), and Sirianni has led Philadelphia to the playoffs twice. Last season, he was the only rookie head coach to lead his team to the post-season.
Despite losing in the first round of the playoffs in 2021, the Eagles returned for the 2022 season and finished a nearly undefeated season under quarterback Jalen Hurts. Hurts solidified himself as a top-five quarterback, the offense became one of the best units in the league, and the defense showed their opponents that they're a powerhouse.
One could argue that the Eagles are just a team made up of really good players. They're correct, but a really good player still makes mistakes and Sirianni's greatest strength has been his ability to identify those and immediately fix them.
Though the Eagles' Super Bowl odds have shortened (now +550), Philadelphia has the bye week — more time for those flowers to grow.