Over the last year, the NFC East has seen an evolution of change to the quarterback position.
The Philadelphia Eagles traded the face of their franchise, Carson Wentz, to the Indianapolis Colts. Dak Prescott had a season-ending injury but signed a whopping new contract with the Dallas Cowboys. The Washington Football Team released Dwayne Haskins Jr. And, Daniel Jones' slow progress caused people to question if he's ready for the long haul.
Going into the 2021-2022 season, each team's starting quarterback now has something to prove — whether making a name for themselves or showing that they're able to come back stronger. So, which team will have the better QB?
NFC EAST QUARTERBACKS RANKED
#1: Dak Prescott — Dallas Cowboys
The age-old (or at least since 2016) comparison has been Dak vs. Carson. Well, this year, no one has to worry about that.
Prescott has been a household name since the Cowboys drafted him. He started every game from 2016-2019, finishing with 16,999 total yards and 118 total touchdowns. He was given the franchise tag and signed tender before the 2020 season which was meant to be used a tiebreaker for most fans wondering which QB was better — Dallas' or Philly's. But the season came to an early close for Prescott.
He played in five games, completing 1,949 total yards and 11 total touchdowns. He became the first player in NFL history to pass for at least 400 yards and rush for three touchdowns in the same game. A couple of weeks later, he became the first to pass for at least 450 yards in three consecutive games.
After what seemed like the start to a continued future of accomplishments, he suffered a season-ending right ankle injury in Week 5.
Prescott signed a four-year contract extension worth $160 million with $126 million guaranteed, including a $66 million signing bonus — the highest in NFL history. The two-time Pro Bowler is ready to make his comeback, and there's no reason to think he won't be ready by kickoff.
#2: Jalen Hurts — Philadelphia Eagles
This ranking is difficult because Hurts has only started in four games, but there's optimism in the little gameplay fans have watched.
Jalen Hurts was first introduced into the Eagles' offense during dual quarterback plays. However, during Week 12, he was upgraded from decoy to starting QB when Carson Wentz was benched after a string of poor performances.
He threw his first career passing touchdown, finishing the game with 109 passing yards. He was named the starter for the remainder of the season. In four games, he completed 1,415 total yards and nine touchdowns. In Hurts' first two career starts, he became the first rookie in NFL history to pass for 500 yards, ranking the highest in Eagles' history to hold a 94.7 passer rating as a rookie.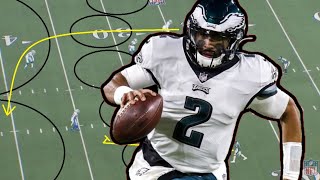 Though the second-year QB's gameplay may not be up to par like Prescott's, he has an overwhelming sense of confidence and discipline. His teammates state that he is the last one to leave the facility during workouts, and if showing up is half the battle, staying late must be the key to winning.
During minicamp Friday, head coach Nick Sirianni stated, "He's [Hurts] is impressive in there. He's really got good control of it. Jalen has just done a good job of taking the plays that have been taught to him, and he can really rattle off exactly what he's supposed to do on every single play. It'll be exciting to get on the field with him and see him do it physically."
Hurtsylvania, anyone?
#3: Ryan Fitzpatrick — Washington Football Team
The Washington Football Team went into 2020 with Dwayne Haskins as their starting QB, benched him, cut him, and won the NFC East with Alex Smith. Then, the team signed 38-year-old veteran Ryan Fitzpatrick and one month later and, Smith announced his retirement.
Fitzpatrick, who began his career in 2005, has played for the Rams, Bengals, Bills, Titans, Texans, Jets, Buccaneers, and the Dolphins. He's completed 37,600 total career yards and 244 touchdowns, averaging 2,350 yards and 15.25 touchdowns per year.
His statistics aren't bad, but Prescott has been able to accomplish half of this in less than five years. Fitzpatrick's age also possesses a burden. For that reason, many thought that Washington would draft a quarterback, but that didn't happen.
Head coach Ron Rivera has commented, "I went through it the other way [during] my first stint as a head coach in Carolina. We drafted the guy of the future for us in the first round. He was, lo and behold, the immediate future… At that point, we had not put all the other pieces around Cam Newtown… So, I've always thought if you can do it the other way where you put all the other pieces around and then go out and get your quarterback, that might be a pretty good situation, too."
The certainty surrounding Fitzpatrick seems to be lacking, and it remains unclear how he will fit into Washington's future.
#4: Daniel Jones — New York Giants
Jones entered the NFL with the Giants in 2019, beginning as the backup to Eli Manning. He became a starter in Week 3 and was the first rookie quarterback in Giants' history to win his first career start since 1980. The following week, Jones became the third Giants' QB to begin their career with two wins.
In 2020, he was team captain. Known for tripping on the turf during a matchup with the Eagles, that rush marked the longest run in Giants' quarterback history.
Over the last two seasons, he's finished with 6,672 total yards and 38 total touchdowns. Jones has had a bit of a slow start, and though many seem to wonder if he will make a vast improvement, his team stands behind him.
General manager Dave Gettleman stated, "We've had Daniel for two years, we've done the evaluation of him, and we really believe he's the guy. No reason to go look…How many of us, after two years at our new job, were great? No, we all start at point A, and we hopefully get to point C, but the one common denominator is it takes time. Everybody's gotta understand that."
BEST NFC EAST QUARTERBACK
The answer here is simple, Prescott is the best quarterback going into the 2021 season. Last season, the Cowboys finished third in the NFC East with six wins. Less sensational is that Washington won the division with seven.
As the most critical position on the field, one question remains: Will these quarterbacks excel alone, or will their respective teams do enough to build around them?