Tight end Kyle Pitts has been at the forefront of prospects for the upcoming NFL Draft. Currently ranked fourth overall, adding Pitts to the Eagles was a tangible possibility before Philadelphia exchanged their No. 6 pick to the Miami Dolphins. Now standing at No. 12, the Birds are unlikely to obtain the Florida Gators alum.
More realistic interest in Pitts now lies with other teams, including the New York Giants, Atlanta Falcons, and the Dallas Cowboys. To fuel Philadelphia's rivalry with the Cowboys even further, Pitts recently confirmed that he met with Dallas and Jerry Jones via Zoom.
A FAN WHO MAY NOT RETURN HOME
Pitts, a Philadelphia native, played tight end and defensive end for Archbishop Wood Catholic High School in Warminster, Pennsylvania. Growing up with a family who has always been Eagles' fans, Pitts admits that signing with the Cowboys could get awkward.
He states, "That's kind of what I would call the oxymoron — me growing up an Eagles fan and then having the opportunity to play for the Cowboys. That would be a hard time getting some of my family [a Cowboys jersey] because they're diehard Eagles fans, so that would be something funny."

Pitts goes on to add, "They're [my family] not heavily into it to the point where they're like, 'We want you playing for the Eagles.' They're just enjoying the process like myself. We're just seeing where all the chips fall, and if they [Eagles] didn't trade back and I got an opportunity to play for the Eagles, it would've been a great thing, but we're not stressing about it. Like I said, we're just letting the chips fall."
A POSSIBLE CHANGE OF FATE
Though Pitts references the Eagles trading back to No. 12, there are now rumors that general manager Howie Roseman may consider moving back into the top 10. If another trade occurs, Philadelphia could be in the running again to obtain the 20-year-old tight end.
Pitts finished his collegiate career at Florida with 24 games, forgoing his senior year. He totaled 100 receptions for 1,491 receiving yards and 18 touchdowns. Though he excels as a tight end, he can also be utilized as a wide receiver — a position the Eagles need help reviving.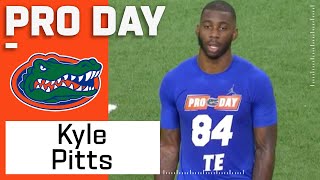 With no guarantees, all that's left for Pitts to do is wait. The 2021 NFL Draft begins in ten days.