The Philadelphia Eagles currently have 45 players inducted into their Hall of Fame. But, as of Thursday, August 12, the franchise is adding two more.
Owner Jeffrey Lurie announced that offensive tackles Jon Runyan and Tra Thomas will officially be a part of Philadelphia's legacy. The announcement came at halftime during the Eagles' first preseason game (against the Pittsburgh Steelers). The induction ceremony will be on October 14 during the team's home game against defending Super Bowl Champions, the Tampa Bay Buccaneers.
HALL OF FAME INDUCTEES
Tra Thomas (1998-2008)
As the 11th overall pick, the Eagles drafted Tra Thomas in the 1998 NFL Draft. He was selected for the Pro Bowl three times — tied for second-most by an offensive tackle in franchise history. Thomas also made All-Pro. During his time with Philadelphia, he started in 165 games.
Following his time with the Eagles, he was signed by the Jacksonville Jaguars and the San Diego Chargers each for one year. In 2012, Thomas retired as a Philadelphia Eagle.
One year later, he joined the Eagles as a coaching intern, becoming the offensive assistant coach.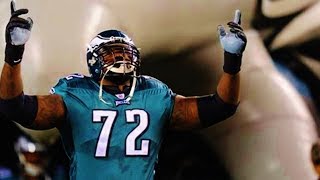 Jon Runyan (2000-2009)
The Philadelphia Eagles signed Jon Runyan to a six-year, $30 million contract in 2000 after he played the first four seasons of his career with the Houston Oilers/Tennessee Titans. Runyan became the highest-paid offensive lineman in NFL history at that time. He was selected for the Pro Bowl in 2002.
In 2006, Runyan re-signed with the Eagles for another three years. Runyan finished his time with Philadelphia starting in all 144 games. After his contract expired, he was signed by the San Diego Chargers, playing in five games. He retired mid-season.
He totaled 190 consecutive regular-season games in his career.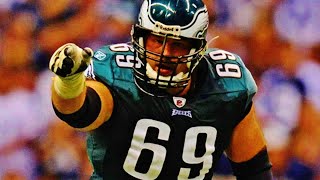 AN EAGLES LEGACY
Both Thomas and Runyan played on opposite sides of the field from each other. Together, they started in 134 regular-season games — a franchise record.
During the nine seasons both players were signed to the Eagles, the team had seven playoff appearances, five division titles, five conference championship game appearances, and one Super Bowl berth.
On Thursday night, Jeffrey Lurie stated, "Tra and Jon gave us every bit of confidence to execute the brand of offensive football we wanted. Both durable and consistent, they were perfect complements to each other and gave us a tremendous advantage on the edges. Tra brought incredible athleticism and technical dominance, while Jon gave us the power and nasty disposition we needed. They will join the other Eagles greats in quite fitting fashion as they are inducted together at halftime of our game against Tampa Bay."
Runyan and Thomas will be the 46th and 47th players inducted into the Philadelphia Eagles Hall of Fame.