One of the most respected men in football, Philadelphia Eagles' center Jason Kelce made his 100thconsecutive game this past Monday against the Seattle Seahawks.
WHERE IT ALL BEGAN
The Ohio native was a running back and a fullback before making his way to the offensive line after redshirting his rookie year at Cincinnati. He started at left guard, earning second-team All-Big East honors. During his senior year, he moved to center. He was named Honorable Mention All-America and second-team All-Big East.
PHILLY PHEVER
The Philadelphia Eagles selected Kelce in the sixth round of the 2011 NFL Draft. Although a center for just one year, he became the first rookie in Eagles' history to start all 16 games at this position.
During Week 2 in 2012, he tore his ACL, ending his second season early before returning the following year. 2013 was another full season for Kelce; however, his streak was interrupted when he missed four games in 2014 to undergo hernia repair surgery.
Despite the injuries, he was selected for his first Pro-Bowl.
Upon returning to the line-up, he hasn't left the Eagles since — completing 100 consecutive games.
Kelce was ranked 7th center in the NFL by Pro Football Focus in 2015, was selected to his second Pro Bowl in 2016, and was a first-team All-Pro, ranking as the highest offensive lineman in 2017. He also earned his first Super Bowl ring after defeating the New England Patriots 41-33 in 2018.
Last year, he was named a three-time Pro Bowler and a three-time All-Pro. Impressive.
A FAN FAVORITE
It's hard to miss his long hair and rugged beard. If he's not sporting a boat hat, he's often seen repping the Flyers or paying tribute to the late Kobe Bryant. Kelce is, without a doubt, a fan favorite throughout Philadelphia.
Kelce gave one of the most notable speeches during the Super Bowl parade in 2018, as he defended his teammates and coaches. Also supporting his fellow fans, he led "No One Likes Us," dressed as a mummer.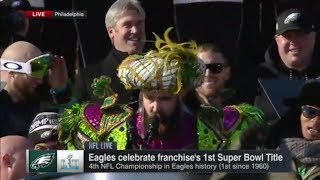 And fans aren't the only ones who root for Kelce. "I just know that's a tough son of a gun. Probably the toughest player on our team," fellow teammate Miles Sanders said in response to Kelce this season.

"You talk to anybody in the building; Kelce is the epitome of what kind of professional you want to be. The dude gives everything he's got every day," Isaac Seumalo said.
The list of compliments for Kelce goes on.
Head coach Doug Pederson said, "I got so much respect for him as a football player on and off the field. He's somebody that does things right all the time, and his game may not be perfect each week, but this guy, he practices and plays hurt. He gives of himself for his teammates. He's a great leader, not only in the offensive line room, but I think of this football team".
A MODEST MAN
Philadelphia may have celebrated Kelce's 100 consecutive game after Monday's battle against Seattle, but Kelce himself didn't think much of it.
He stated, "I don't think that a number means much. I think you just try and be available and do your job. I've been fortunate to be able to do that, and obviously, injury rates in this league are pretty substantial. I've been pretty lucky, all things considered, to not have injuries over and the course of 100 games that would sit me down. But I think that a lot of it is just pretty good fortunate. I'm happy that I've been able to do it."
Two weeks ago, however, Kelce did endure an elbow injury. He left the field during the Eagles game against Cleveland and had x-rays completed after refusing to enter the medical tent. Kelce re-entered the game and remains only one of two offensive starters for the Birds, alongside quarterback Carson Wentz.
Kelce's 100-game streak is the longest streak by any NFL interior lineman who is currently playing. For the Eagles, he remains fifth, behind Dave Alexander (108), Stan Walters (126), Jerry Sisemore (127), and Jon Runyan (144).
He continues to climb as he prepares for Week 13. The Eagles fly to Wisconsin to play the Green Bay Packers tomorrow at 4:25 pm.