No Eagles game? No problem.
There is an avalanche of interesting NFL and MLB developments swirling in the area.
What a week for a bye.
Here is my Iggles' Starting 11 for NFL Week 7.
Look at the standings.
You never get tired of seeing the Iggles atop the NFL world as its lone unbeaten team and of seeing them 6-0. Not only does that raise expectations of a long post-season, but a comparison to recent history.
Two years ago, this team was 4-11-1.
Last year at this time, a supposed rebuilding season, they were 2-4 enroute to 2-5. Since that time, the Eagles are 13-4, including the playoffs.
Close games aren't even tolerated any more. What a switch.
Ponder the odds of my FanDuel bet.
Before the Iggles met the Minnesota Vikings in Week 2, I took a pop that they'd win that tough matchup. I made a FanDuel wager as to when their first loss would be.
I selected the Green Bay Packers on Nov. 27, still at least half a season away at that point. The odds were +1400, or 14-1.
Friends and colleagues laughed. How could I be that optimistic?
Now they are laughing again for a different reason, wondering if the Packers will even give them a game.
It was a great future stab as far as I'm concerned. The Birds slipped past Minnesota, beat a tough Arizona Cardinals team that threatened to short-circuit the bet and they already have a win over the Dallas Cowboys.
Is it too early to think they only have to beat the Pittsburgh Steelers, Houston Texans, the Washington Commanders again and the Indianapolis Colts before being front and center with the Packers? Who knows.
Either way, I am glad I made this bet.
And if they remain unbeaten when facing the Packers, that requires a counter bet on the Eagles moneyline for that game. It's only right.
Don't worry about my DraftKings bet
In May, odds went up for the Eagles' win totals. It was over-under nine. I took the Over in a flash, telling Pete Amato and Bill Gelman about it before we taped a session of Why Eagles Why in connection with the schedule being released.
Only wish I had placed more on it. Famous last words.
Within a week, DraftKings moved the line to 9.5 because of all the Iggles money. It's 13 now and the Over is still the chalk.
Look at the Futures board, team version
At DraftKings, the Eagles are the second most-favored team to win it all. The Buffalo Bills have been at the top of the heap all year long. At one point they were +400 and now down to +275 at DraftKings.
Right behind them are the Birds at +350.
Think of this monumental leap. Not long ago, the Iggles, New York Giants and New York Jets all shared the 80-1 Super Bowl futures corridor. And even now, the 5-1 Giants are + 6000, or 60-1. The 4-2 Jets are +9000, or 90-1.
The book doesn't believe yet in the Jets or the Giants. It does believe, however, resoundingly, in the Iggles.
---
Our most popular IGGLES pages for you to check out:
---
Look at the Futures board, individual version.
This has to be seen to be believed.
Nick Chubb of the Cleveland Browns is the +225 chalk at DraftKings to lead the NFL in rushing touchdowns. He has six of them, he plays for a ground-oriented team and that makes sense.
Guess who is second, at +600?
None other than Eagles quarterback Jalen Hurts. He also has six rushing touchdowns, an indication of a team that's not afraid to go to him down near the goal line.
This is an excellent value for anyone who believes the Eagles will continue to use this style of play calling. Most people feel Hurts will use his other weapons, like Miles Sanders, DeVonta Smith, A.J. Brown, Dallas Goedert and a host of others, as the season goes along. But still, what a compliment.
On a game-by-game basis, the books treat Hurts like a running back. Hurts often is close to +100 to score anytime and +650-700 to tally first.
Appreciate the interest surge throughout Philadelphia, South Jersey and Northern New Jersey.
In 2020, the Eagles, Jets and Giants combined for 12 wins.
They already have 15 this season.
In 2020, a visiting team, the San Francisco 49ers, had more wins at the Met Life Stadium complex the Jets share with the Giants than the Jets did. The Niners had back-to-back wins at Met Life against the Jets and Giants. The Jets won one game there all year.
There is life throughout the entire Northeast corridor now. Taunting matters again for Iggles fans with their Giants counterparts.
There also is respect for this division.
There are four teams with winning records in the NFC. Three of them _ the Eagles, Giants and Cowboys _ are in the NFC East. They have combined for 15 wins. The NFC Least has become the NFC Beast.
Scout out the next game.
The Pittsburgh Steelers come to the Linc Oct. 30. Will they have New Jersey's own Kenny Pickett as their starting quarterback? Or will it be Mitch Trubisky, because Pickett was knocked out of Pittsburgh's last game with a head injury?
Speaking of Pittsburgh's last game, the Steelers shocked the Tampa Bay Buccaneers and Tom Brady at +10.5 last week. Pickett led them most of the way.
The Steelers play the Miami Dolphins this week. Better check out that game to see which version of the 2-4 Steelers will come to the Linc.
Savor the admiration for Hurts.
He was an acquired taste for most observers, who felt he was a run-only quarterback. Slowly, Hurts has made fans of analysts on the fence and put his critics onto the fence position.
Johnny Avello, the director of race and sportsbook operations, has placed a keen eye on Hurts' evolution.
"You know my feeling about Jalen Hurts," Avello told Iggles.com. "I thought he was a great college quarterback with a great attitude, but I did not really think he was going to be a star in this league. I thought he would be a good pro quarterback at best.

"But what he's doing with this team is impressive. He is making good decisions and he can make things happen with his legs. That's a priority now in the NFL, you have to be able to do that.

"You look at guys like Russell Wilson (Denver Broncos) and Matty Ice (Ryan, Indianapolis Colts) and they are not runners. If you can't run as a quarterback, in my view you are dead in the water."
Avello also is impressed by the Eagles overall.

"We had them at nine wins, then 9.5, than 11 and 11.5 and now all the way up to 13," he said, "and if you go Over 13 that's -130. There is something special about this team right now."
Wager on other games.
There are close to 500 different bets you can make on any one NFL game. Something will pop up.
Check out Why Eagles Why. Pete, Bill and I love doing this every week, charting the Eagles, the NFL, betting lines and relevant matchups. Plenty to talk about this week. This show has four quarters, an overtime, a special version of Gelman's Gold and a halftime segment devoted to the Phillies.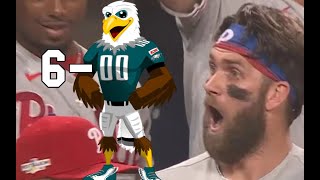 Enjoy the Phillies.
This is special. The house will be rockin' all weekend. Fans who went without playoff baseball for 11 years get three full games of it when the Phillies host the San Diego Padres in the NLCS.
The crowd will give them the home advantage they will need. And while the Padres fans were impressive over the first two games, this is Philly.
Think of your own bragging rights: you had to pause from watching Philly's lone unbeaten NFL team to watch a World Series qualifier involving the Phillies.
It's hard to think of a better time to be a Philadelphia professional sports fan. Was it 1980, when the Phillies were winning the World Series and the Eagles were launching their trip to the Super Bowl that season? Or was it some other time?
These are good questions to think about.
If there was ever a perfect bye week for an Iggles fans, this is it.
Those who want to savor all the good news can pause and reflect.
Those who want to go one step further _ wagering on games _ will hopefully pause and collect.