The 6-0 Birds are giving the 2-5 Pittsburgh Steelers 10.5 points across most American sportsbooks for Sunday's Week 8 matchup at the Linc.
Although some favorites cover a number that large, it's a ton of points. Eagles great Bill Bergey once told me that no NFL squad should ever give 10 points or more to another team _ even as his 1980 Birds were notching a Super Bowl berth.
And sure, the 2022 Eagles have covered four of the last five games at the Linc, including all three this season. But they won two of those games by less than 10 points.
DraftKings Odds – Eagles vs Steelers
The number for this game hasn't scared away the nation's gamblers, as 64% of DraftKings handle backed the Birds at -10.5 as of Friday morning.
That's considerable support, but not in the 90% range some teams generate.
Pittsburgh is on a spread-wagering uptick, covering two straight weeks. One was a 20-18 moneyline triumph over the Tampa Bay Buccaneers at +10.5 two weeks back. The Steelers also returned +350 on the moneyline and sent the GOAT to the first of what's now three straight setbacks ( That includes Thursday's 27-22 home setback to the Baltimore Ravens.)
The Steelers eked out a cover in last week's 16-10 loss to the Miami Dolphins, in which they were +7.5. This team has gotten more than a touchdown at the books for three straight weeks and dog bettors are backing them.
The Eagles come in after the bye and a covering 26-17 triumph over the Dallas Cowboys (but did you sweat out the last Dallas field goal that just missed? That betting line drifted to Eagles -7 at kickoff).
With the Eagles having to lay a big number, Eagles bettors will seriously consider other options.
The first consideration beyond the point spread is the over-under of 43 points for the game. The public appears split nearly down the middle on this one.
Bettors may want to fiddle with that total, going up or down a couple of points based on their preference, and link the alternate line with a couple of selections. That can be done either with this game or another game around the league.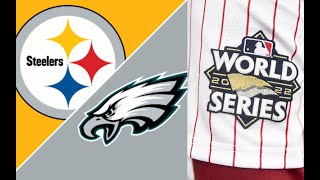 This is just the start of finding an alternate betting path.
There is a bevy of props. Similar to wild-card games in a casino, they can reward bettors just as much as the moneyline and spread wagers. Props also add depth to the game.
The key for gamblers is finding a prop that matches their view of the contest and then trying to avoid laying too much juice.
Here is a sample from DraftKings and FanDuel for the game outside the game.
Touchdown scorers _ first and anytime _ will go up at most books on Friday.
The Eagles' list of contenders includes:
Quarterback Jalen Hurts

Running back Miles Sanders

Receivers DeVonta Smith, A.J. Brown and Quez Watkins

Tight end Dallas Goedert, a stalwart

Defense and special teams
While it's logical that some members on this list will score at odds of even money or a little higher, who scores first is a crapshoot. There are so many weapons.
Pittsburgh's candidates include:
Quarterback Kenny Pickett (via Ocean Township High School in New Jersey and Pitt for his college ball)

Running back Najee Harris

Receivers George Pickens, Diontae Johnson and Chase Claypool.

Tight end Pat Freiermuth, one of the best in the league.
Pickett's high likelihood of throwing an interception will be baked into any prop bet. If a total turnovers wager goes up, it's worth consideration.
Team props also create a nice game outside of the game.
At DraftKings:
The Eagles have an over-under for 3.5 touchdowns. The Over is +140 and the Under is -180.
Considering how dominant the Eagles have been in the second quarter, sometimes tallying three touchdowns in that period alone, this prop suggests the Steelers will bend but not break.
Pittsburgh has an over-under of 16. 5 points. The Over is +100 and the Under is -120. A fair wager. The downside of the Under is the absence of wiggle room and a price that looks barely playable.

Will Hurts throw more than 1.5 touchdown passes.? He's due for an aerial breakout game at some point. The over 1.5 is +110 and the Under is -145.
This looks like a game in which he should target Quez Watkins at least for one deep ball. The Steelers gave up a 98-yard touchdown pass to the Buffalo Bills on the game's first possession a few weeks back.
Further enticing Hurts to throw is Pittsburgh's lack of defensive pressure. They notched seven sacks in the opening game. They have five since.
That's because they miss T.J. Watt, who is out with a pectoral injury.
For Pickett, the Over 1.5 is +195 and the Under is a fat -275. Books do not expect him to be able to beat the Birds through the air. Pittsburgh has struggled to record passing touchdowns all year.
Pickett is a future star, but he's enduring growing pains.
Yardage Props
The yardage for Hurts is over-under 226.5 and is -115 either way. Pickett's yardage total is over-under 216.5 yards. It's -115 either way. Fair odds on both props but a little too much juice.
Receiving Props
It's easier for bettors to hone in on the Pittsburgh side because there are fewer options.

Pittsburgh has a couple of talented receivers, but not the depth of the Eagles.

The forgotten man is Claypool, whose totals are over-under 40.5 yards. The Over is -110 and the Under is -120.

Claypool has indeed been forgotten in favor of emerging George Pickens, but Eagles fans can't forget him. Claypool had the biggest game of his life against them two years ago with four, count em four, touchdowns.

Pickens' totals are 38.5 yards with the Over at -125 and the Under at -105.
Here is a selection from FanDuel:
Eagles to score first and win is -134

Pittsburgh to score first and lose is +225.

This is a nice price and it has paid out before, when the Eagles topped the Jacksonville Jaguars 29-21. The Jags got on the board first, but Iggles bettors laughed last.
What will be the first score of the game?
Eagles touchdown +125

Eagles field goal +320

Eagles safety + 7000

Pittsburgh touchdown +390

Pittsburgh field goal +380

Pittsburgh Safety +700
What will be the Eagles' first score?
Touchdown -140

Field goal +17 0

Safety +5000
What will be the lowest-scoring half?
First is -115

Second is -110


Will each team reach 15 points? Yes is +100

The second quarter over-under is 13.5 points.

The Eagles might manage this one by themselves. The Over is -104.
Think you have enough to get started?
Don't forget the in-game betting and good luck finding the financial end zone!
---
Our most popular IGGLES pages for you to check out: