What was supposed to be a "Rebuild Year" for the Philadelphia Eagles wind up being a more successful season than fans originally imagined. The Eagles finished 9-8, making it to the playoffs under a new coaching staff and a new-ish quarterback and his surrounding weapons.
Philadelphia then entered the postseason with ten total 2022 NFL Draft picks, making a number of massive moves to build around Jalen Hurts. The Eagles filled in the necessary gaps and are now predicted to be one of the top teams moving into next season.
According to Over The Cap, the Eagles' top-51 players account for $159 million, including some changes to the top-10 salaries since last season.
Their available cap space stands at $13 million (as of June 5, 2022). This is the 16th most in the NFL.
Highest-Paid Eagles Players 2022 – Top 10:
Below is a look at what the top-10 highest paid Eagles players will make entering the 2022 season, including salary and bonuses (barring they remain on the team).
Javon Hargrave — $17,802,000
Hargrave, who was previously with the Pittsburgh Steelers, joined Philadelphia in March 2020. He signed a three-year $39 million contract, which was restructured in early-2021. The move saved the Eagles $9.4 million; however, now he moves up five spots on the top-10 list.
This season he completed a career-high in combined tackles (63), assisted tackles (36), and sacks (7.5). Hargrave was also named to his first Pro Bowl, replacing Kenny Clark from the Green Bay Packers who was injured.
It's likely we'll see Roseman restructure his contract this offseason to free up more cap space.
Lane Johnson — $15,762,998
First signing with the team in 2013, Lane Johnson signed a six-year contract extension worth $63 million with $35.5 million guaranteed in 2016, becoming the highest-paid right tackle in the NFL. The Eagles revised his contract again in 2019; a four-year $72 million deal with $54.6 million guaranteed. He is now the highest-paid offensive lineman in the NFL.
Early in the 2021 season, Johnson dealt with some personal issues, unexpectedly missing Weeks 4-6. He later broke his silence stating he was struggling with anxiety and depression.
In Week 16 against the New York Giants, Johnson scored his first touchdown. In a play now deemed "East Texas", Hurts faked a pass to running back Boston Scott, throwing the ball to Johnson who was wide open in the end zone.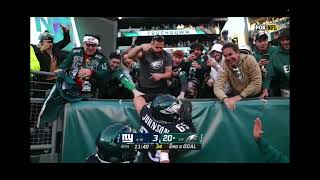 Darius Slay — $9,731,00
Slay was the fifth-highest paid player on the Eagles last season. Last year, he restructured his contract, saving the team $9.14 million in cap space. At the start of the 2022 offseason, he held the No. 1 spot; however, his contract was restructured again on March 18.
His cap hit is down from $22.035 million, saving the Eagles $11.9 million in cap space.
Slay was traded to Philadelphia in 2020 in exchange for a third-round and fifth-round selection in the NFL Draft. The 2021 season was remarkable for the cornerback who made three interceptions and three touchdowns.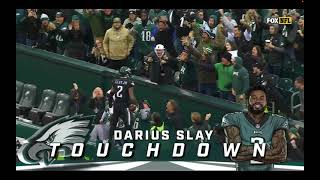 He was named to his fourth Pro Bowl, becoming the first Eagles' cornerback to be selected since Asante Samuel in 2010.
Brandon Graham — $9,413,000
Brandon Graham has also been with Philadelphia since the start of his NFL career. In 2019, he signed a three-year, $40 million contract extension, securing his first Pro Bowl in 2020.
In Week 2 against the San Francisco 49ers in 2021, Graham was carted off the field with an ankle injury. He took to social media following the game hinting at his season-ending injury. It was later confirmed that Graham suffered an Achilles rupture and would not return.
Jason Kelce — $8,045,000
The 34-year-old has been with the Eagles since he was drafted in 2011 and has become one of the best players in franchise history. Kelce has played in 122 consecutive starts. He was also named as Philadelphia's nominee for the Walter Payton Man of the Year award for the 2021-2022 season.
This season, Kelce was named to first-team All-Pro and his third consecutive Pro Bowl (fifth overall); however, the week before, he dropped out. Many fans have been concerned that the 2021 season would be his last after numerous retirement rumors year after year. Luckily, they were just rumors.
Kelce recently announced he would be back for his 12th season with Philadelphia. The Eagles posted the video to their Twitter.
— Philadelphia Eagles (@Eagles) March 10, 2022
Kelce's new contract makes him the highest-paid center in the NFL, bypassing Lions' Frank Ragnow. His one-year deal can increase to $14.5 million with incentives.
Isaac Seumalo — $7,668,000
The Eagles selected Seumalo in the third round of the 2016 NFL Draft. His time on the field has been short-lived after suffering a series of injuries. In 2018, he had a pectoral injury, followed by a knee injury in 2020 and Lisfranc injury in 2021.
A.J. Brown — $5,680,894
One of the newest additions to the list is former Tennessee Titans' wide receiver A.J. Brown. The Eagles acquired Brown during the 2022 NFL Draft when they traded away their No. 18 and No. 101 overall picks.
Brown was originally drafted in 2019 in the second-round. He's had a successful career thus far, finishing with a career-high 70 receptions, 1,075 receiving yards, and 11 touchdowns during his second season. Last year, Brown put up his lowest stats, but still played better than all of Philadelphia's wide receivers except for DeVonta Smith.
He will now play alongside Smith, giving quarterback Jalen Hurts another throwing option. Brown signed a four-year, $100 million contract extension with $57 million guaranteed.
Jake Elliott — $5,086,000
Rounding out the top-1o is kicker Jake Elliott. The Eagles signed Elliott off of the Bengal's practice squad in 2017.
In 2020, he had his least productive season of his career; however, he regained his success this past year. He finished with his first-year of converting 100% of his extra-point attempts. He also broke Philadelphia's franchise record for the best field goal percentage in a single season (90.9%).
He was named to his first Pro Bowl, replacing Matt Gay who was unable to play due to the Super Bowl.
DeVonta Smith — $4,577,589
As Philadelphia's 2021 first-round draft pick, DeVonta Smith had a promising rookie season. Smith finished with 64 receptions for 916 receiving yards and five touchdowns. The wide receiver also surpassed DeSean Jackson for the most receiving yards for a rookie — a record that hasn't been broken since 2008.
Entering the 2022 season, Smith is now ranked as one of the best receivers in the league according to Pro Football Focus. He, along with AJ Brown will now become one of the most anticipated duos to watch.
Jordan Mailata — $4,372,000
This is pretty amazing, especially for a guy who never played football before being drafted by the Philadelphia Eagles. An original rugby player, Mailata joined the Eagles in 2018, and was activated in 2020 when Jack Driscoll was injured. During that season, Mailata was ranked as a top-15 offensive tackle.
He and Andre Dillard would then go on to compete for the left tackle position for the 2021 season with Mailata earning the spot. A day before the season began, the Eagles signed him to a four-year, $64 million extension.
Mailata finished the 2021 season playing 100% of the offensive snaps ten games. He allowed only two sacks on 336 downs, and has quickly become one of Philadelphia's favorite players.
___________________________________________________________
Philadelphia's Highest Paid Eagles Players — Recap
Javon Hargrave — $17,802,000
Lane Johnson — $15,762,998
Darius Slay — $9,731,000
Brandon Graham — $9,413,000
Jason Kelce — $8,045,000
Isaac Seumalo — $7,668,000
A.J. Brown — $5,680,894
Jake Elliott — $5,086,000
DeVonta Smith — $4,577,589
Jordan Mailata — $4,372,000
** Prior to Carson Wentz's trade to the Indianapolis Colts on March 12, 2021, he previously held the No. 1 spot on the list with a salary of $34,673,536. This was the highest salary in franchise history and is now the highest debt in NFL history, totaling $33.8 million in dead money. Wentz has since been traded to the Washington Commanders.