The Philadelphia Eagles have been around for 88 years. After 28 playoff appearances, 11 NFC East championships, three conference titles, and one Lombardi trophy, there have been a number of impactful players. But, since hanging up their midnight green uniforms, where are they now?
Below is a look at ten former Eagles players and what they've been up to as of recently.
TEN FORMER EAGLES PLAYERS: WHERE ARE THEY NOW?
Harold Carmichael: 1971 – 1983
Carmichael is an Eagles' legend. As a wide receiver, he played in Philadelphia for 13 seasons. In 1973, Carmichael finished with the most receptions and receiving yards in the league. He was elected to four Pro Bowls, finishing his career with 590 receptions for 8,985 yards and 79 touchdowns.
Though he went on to play for the New York Jets and Dallas Cowboys, he retired an Eagles' all-time leader in pass receptions, receiving yards, receiving touchdowns, and total touchdowns. All four records were still standing as of 2017.
After hanging up his uniform, Carmichael went on to become the director of player and community relations for the Philadelphia Eagles. He eventually took over as Fan Engagement Liaison and now works as an ambassador for the team. Carmichael now lives in South Jersey and was elected into the Pro Football Hall of Fame in 2020.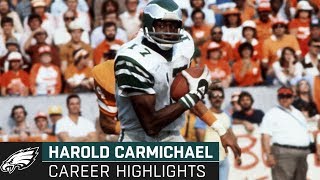 Ron Jaworski: 1977 – 1986
Quarterback Ron Jaworski played alongside Harold Carmichael, becoming one of the franchise's best players to this day. He led the Eagles to four straight playoff appearances and their first Super Bowl game against the Oakland Raiders. Jaworski was selected for the Pro Bowl in 1980, and eventually moved on to the Miami Dolphins and Kansas City Chiefs before retiring.
When he retired, he was the Eagles' all-time leader in wins, passing yards, pass completions and attempts, and passing touchdowns. Those records were eventually broken by Donovan McNabb; however, he remains Philadelphia's all-time leader in longest pass completion.
Since then, Jaworski was inducted into the Pro Football Hall of Fame in 1994. He became part owner of the Philadelphia Soul and owns numerous country clubs in the South Jersey area. Jaworski also became a broadcaster and published his first book, "The Games That Changed the Game". He resides in South Jersey.
Reggie White: 1985 – 1992
Reggie White joined the Eagles in 1985 as an unproven defensive end, quickly changing his reputation in his first season with Philadelphia. During his time in midnight green he was named NFL Defensive Player of the Year, was named First-team All-Pro for six consecutive seasons, and was selected to the Pro Bowl seven consecutive times (13 overall).
In eight seasons, White totaled 124 sacks, becoming the Eagles' all-time sack leader. Wildly, the lowest number of sacks he ever recorded in one season was 11. Before signing with the Green Bay Packers, ESPN Sportsnation named White the greatest player in Eagles' franchise history.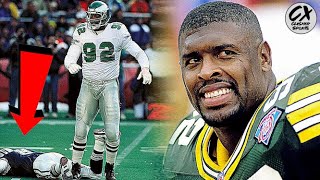 White retired in 2000, the Eagles retired his No. 92 jersey. He became a professional wrestler, as well as an ordained Baptist minister. In 2004, White passed away from health issues. He was inducted into the Pro Football Hall of Fame two years later, as well as the Philadelphia Sports Hall of Fame in 2007.
Randall Cunningham: 1985 – 1995
Former Eagles' quarterback Randall Cunningham joined the team in 1985, eventually replacing Ron Jaworski. He became one of the best quarterbacks in the franchise's history, becoming a Second-team All-Pro and a three-time Pro Bowler (four total). In 1989, he set a franchise record with 62 pass attempts, leaving Philadelphia in 1995 with the third-most rushing yards in Eagles' history (4,482). Cunningham continues to hold the record for 6.62 yards per rush attempt and 6.5 yards per pass attempt in playoff games.
In 2002, he signed a one-day contract with Philadelphia and officially announced his retirement. Since then, he returned to college and opened up his own recording studio, producing Christian music. He became an ordained minister, published a book, and became a high school football head coach.
Brian Dawkins: 1996 – 2008
Safety Brian Dawkins played in Philadelphia under Ray Rhoades and Andy Reid, earning whopping contracts during his time with the Eagles. In 13 seasons with the Birds, Dawkins was a four-time First-team All-Pro, seven-time Pro Bowler (nine total), and was named to the NFL 2000s All-Decade Team. He became the first player in NFL history to record a sack, interception, forced fumble, and a touchdown reception in a single game, as well as the only safety to ever record 36 forced fumbles.
In 2012, Dawkins signed a one-day contract with the Eagles to retire with the team. They eventually retired his No. 20 jersey. Six years later, he was selected for the Pro Football Hall of Game. Since his time in the NFL, he has been ranked the fifth best safety in NFL history by NFL analysts.
Following his retirement, he became an analyst for ESPN and became Football Operations Executive for the Eagles, earning a Super Bowl ring.
Jeremiah Trotter: 1998 – 2001, 2004 – 2006, 2009
In his first stint with the Eagles, Jeremiah Trotter led the team in tackles from 1999-2001, making two consecutive Pro Bowls. Before he became a free agent, the Eagles made it to the NFC Championship for the first time since 1980.
Trotter went on to play for NFC East rival, the Washington Redskins, later returning to the Eagles in 2004. The Eagles made a Super Bowl appearance that season, eventually losing to the New England Patriots. However, Trotter was selected to the Pro Bowl again in 2005 and 2006.
Three seasons later, he returned to Philadelphia for the third and final time. The Eagles did not re-sign him after 2009. He was inducted into the Philadelphia Eagles Hall of Game in 2016.Since then, Trotter has been operating car wash businesses in South Jersey, along with a unisex salon.
Donovan McNabb: 1999 – 2010
Donovan McNabb was a first round pick by the Eagles in 1999. From 2000-2003, he led the team through four consecutive playoff runs, ending with the franchise's second-ever Super Bowl appearance. McNabb became one of the league's most elite quarterbacks, earning six Pro Bowl selections.
He eventually played for the Washington Redskins and Minnesota Vikings, however, he chose to retire as an Eagle in 2013. McNabb was the first NFL quarterback to throw for more than 30 touchdowns and less than 10 interceptions in a season. He also ties Troy Aikman for the most consecutive appearances in the NFC Championship Game by a quarterback with four.
Since retirement, McNabb became an NFL analyst. He has also started his own charity to raise awareness for diabetes.
David Akers: 1999 – 2010
Many don't expect a kicker to make such an impact, but David Akers was a different breed. The Eagles signed him in 1999, setting numerous records throughout his career. During his time in Philadelphia, he was selected for four Pro Bowls (five total), and was named to the NFL 2000s All-Decade Team.
Akers set a league record for the most points in a single decade (1,169), most field goals in a season (44), most points in Pro Bowl history (57), and the longest field goal in Pro Bowl history for the Eagles (53 yards). He was inducted into the Philadelphia Eagles Hall of Fame, and has been active in charity.
Akers now lives in Tennessee, but has a vacation home at the Jersey Shore.
Brian Westbrook: 2002 – 2009
Brian Westbrook joined the Eagles in 2022, seeing limited playing time until 2004. However, that season he led all NFL running backs in receiving with 73 receptions for 703 yards. He played in Philadelphia's first Super Bowl in 25 years, becoming a key offensive player each season thereafter.
In eight seasons as an Eagle, he finished with 5,995 rushing yards and 37 touchdowns, and 3,790 receiving yards and 29 touchdowns. He was released in 2010, but two years later, he retired as an Eagle. In 2015, he was inducted into the Eagles Hall of Fame.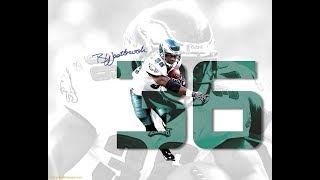 Since then, Westbrook has become a correspondent for CNS Philly.
Jason Peters: 2009 – 2020
A mammoth player, Jason Peters joined the Eagles in 2009 under Andy Reid. Peters was already known as one of the best left tackles in the NFL, and proved that after being selected for two consecutive Pro Bowls in 2010 and 2011. He eventually went on to win Super Bowl LII — the first in the franchise's history. He also secured himself four more Pro Bowl selections while in Philadelphia.
After a number of injuries, the Eagles did not renew Peters' contract after 2020. He signed with the Chicago Bears during the 2021 season and is currently a free agent again.