Yesterday, the Philadelphia Eagles came out victorious during their second trip to the Meadowlands. With a 33-18 win over the New York Jets, the Eagles are going into their bye week with a 6-7 record.
After sustaining an ankle injury in Week 12 against the New York Giants, quarterback Jalen Hurts missed his first game of the season. Backup Gardner Minshew took his place, completing 20 of 25 attempts for 242 yards and two touchdowns.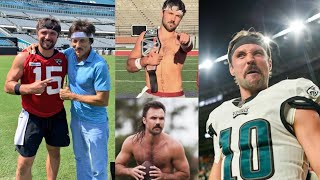 SUBSCRIBE to Why Eagles Why for more videos like this: https://tinyurl.com/WEW-Subscribe
---
But Minshew wasn't the only novel thing Philadelphia dished out on Sunday. The Eagles also brought home many 'firsts,' which should excite fans moving into the season's final stretch.
EAGLES BRING BACK 'FIRSTS' TO PHILADELPHIA
The Eagles are now 12-0 against the Jets
Since the Eagles' first meeting with the Jets in 1973, the Birds were 11-0-0 — the best record by a team against an opponent in the league.
Before Sunday's game, Jets' head coach Robert Saleh commented on Philadelphia's streak stating, "I saw that. That's history."
And the Eagles have continued just that, now pulling ahead 12-0-0.
Though the Jets certainly weren't expecting Gardner Minshew, they managed to score on their first three possessions. But following those touchdowns, New York didn't put any further points on the board the remainder of the game. The Jets are now 3-9 and hold a losing record their sixth straight season.
The Eagles rushed for 175+ yards in six consecutive games since 1949
Philadelphia went from chanting "Run the ball!" at home games to becoming the leading team in rushing yards in a matter of weeks.
Over the last six consecutive games, the Eagles have rushed for at least 175 yards since 1949 — the same year they won their second straight NFL title. This season, they are averaging 160 rush yards per game.
Even without their leading rusher (Jalen Hurts), the Eagles finished Sunday's game against the Jets with 185 rushing yards.
Gardner Minshew's passer rating was the highest since 2013
The last time quarterback Gardner Minshew started in a game was for the Jacksonville Jaguars in 2020. Despite two completions against the Detroit Lions this season, Sunday was Minshew's first full game as an Eagle. And he made it a memorable one.
The 26-year-old completed 20 of 25 attempts for 242 passing yards and two touchdowns. His passer rating was 133.7 — the highest by any Eagles' quarterback since Nick Foles.
Minshew also became one of four Eagles' quarterbacks since 1991 to have recorded a perfect passer rating in the first half of a game. Before him — Nick Foles (2013), Michael Vick (2010), and Donovan McNabb (2007).
ONLY Eagles QBs over the last 30 years with a PERFECT Passer Rating at the Half

Gardner Minshew (Today)
Nick Foles (2013)
Michael Vick (2010)
Donovan McNabb (2007)#Eagles #GardnerMinshew pic.twitter.com/1P3IpdyuLa

— Jeff Skversky (@JeffSkversky) December 6, 2021
The Eagles scored on their first seven possessions
It was a bit of a ping-pong match for any fan who watched Sunday's game in the first half. With every Jets' score came one for Philadelphia. On the first seven possessions of the game, the Eagles scored on each of them.
The first and second scores were touchdown passes by tight end Dallas Goedert. The third touchdown of the day came from running back Kenneth Gainwell on an 18-yard run. The following four consecutive possessions ended with field goals by Jake Elliott — his longest one being 46 yards.
Philadelphia's only punt return of the day came in the final two minutes of the game.
Dallas Goedert scored two 25+ yard touchdowns since 2019, surpasses career-high receiving yards
The Minshew-Goedert connection was on fire Sunday. The quarterback's first two touchdown passes were to the tight end — both 25+ yards. Both touchdowns were completed in the first quarter of the game, giving Philadelphia a 14-12 lead over the Jets.
Goedert finished the game with six catches for 105 yards, surpassing his 2,000 career receiving yards. He also became the fourth-fastest tight end in Eagles' history to do so.
Gardner Minshew stated, "This is my first week to ever really throw to Dallas. He's really good. It's pretty comfortable throwing it to him anytime you got a player like that. He had a great game today. I was really happy to find him and just imagine he's gonna continue to be a really good player."
Miles Sanders finished with a career-high in carries and yards
Running back Miles Sanders has undoubtedly had the short end of the stick this season. Despite a prominent presence on the field, head coach Nick Sirianni was reluctant to run the ball, leaving Sanders with almost no playtime. Then the second Sirianni decides to give Philadelphia what they want, Sanders gets injured.
After missing three weeks, Sanders returned, finishing with more rushing yards per game since Week 1 against the Atlanta Falcons. He completed 24 carries for 120 rushing yards on Sunday — a career-high.
Unfortunately, Sanders injured his ankle again late in the fourth quarter and may miss another few weeks.
Javon Hargrave increased his career-high in sacks
Javon Hargrave was on fire at the start of the season and fans have been waiting for him to outdo his career-high in sacks since. After six weeks with zero sacks, Hargrave finished last week against the Giants with one, exceeding his former career-high of 6.5.
This week, he added an additional 0.5 for 7.5 total. Hargrave now leads the team in sacks. Behind him is Josh Sweat with five.
The Philadelphia Eagles will now enter their bye week (Week 14). They return December 19 to face off against division rivals for the remainder of the season.