Call it déjà vu, but the Philadelphia Eagles have done it again. After four straight losses at home, the Eagles win against the New Orleans Saints for the first time since they beat them last December.
Philadelphia now has two consecutive victories, as they go 5-6.
VICTORY REPEAT
The Philadelphia Eagles brought Week 11 back to the Linc Sunday as they were in search of their first home win this season. For head coach Nick Sirianni, the win was mandatory, stating that "The city deserves it."
And the city got just that.
The Eagles continued to run the ball through their fifth consecutive game. Challenging the No. 1 rush defense in the league, Philadelphia rushed 152 yards in the first half, with two rushing touchdowns. Miles Sanders returned to the field, coming off of injured reserve following an ankle injury in Week 7. He added 47 rushing yards in the first half, trailing Howard (56) and Hurts (49).
Minutes before halftime, Darius Slay had an interception return for a touchdown — his third over the last four games.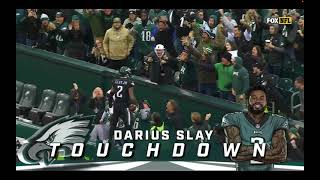 Philadelphia's defense held the Saints to just seven points and less than 50 rushing yards. New Orleans' sole [first-half] touchdown came out of a fumble by Miles Sanders.
The Eagles went into halftime 27-7.
Despite fighting through the second half, fortunately, the Saints couldn't recover.
Jake Elliott completed his third and fourth kick of the game, sending the Eagles 33-7 into the third quarter. Minutes into the fourth quarter, the Saints scored a touchdown, attempting a two point conversion but coming up short. It was their ninth failed attempt this season.
New Orleans then had a rush touchdown by quarterback Trevor Siemian with a missed extra point by Brett Maher. In their next drive, Maher redeemed himself with a field goal to close the gap but it didn't last very long.
The Eagles came through with another rushing touchdown by quarterback Jalen Hurts, sending Philadelphia 40-22.
Jalen Hurts 🔥🔥 cut on TD run!

Jalen Hurts has 8 rushing touchdowns this year

Most for a QB in the NFL

Most ever for an eagles QB first 11 games of the season

— John Clark (@JClarkNBCS) November 21, 2021
With minutes left in the game, New Orleans scored one final touchdown to end the game 40-29 in favor of Philadelphia.
The Saints who have only allowed 66 rushing yards per game this season, gave up 242 total rushing yards to Philadelphia. This marks the second time New Orleans has given up 200+ yards in 94 games — both have been to the Eagles. They also haven't given up 30+ points all season, until today.
A win-win for Philadelphia.
With a manageable schedule remaining, the Eagles travel up the turnpike next week to play NFC East rival, the New York Giants.