Preseason for the Philadelphia Eagles has now come to a close. Though the team finished with a 0-2-1 record, this year, more than ever, was about finding the right players to assist in a rebuild. With that came opportunity — the opportunity to search for standout guys who may have been overlooked otherwise.
Aside from the obvious (Jalen Hurts, DeVonta Smith, Miles Sanders, etc.), the players below have become unexpected standouts, and fans should be excited to keep a close eye on them.
2021 SEASON EAGLES UNEXPECTED STANDOUTS
QUEZ WATKINS: WIDE RECEIVER
Coming from Southern Mississippi, the Philadelphia Eagles drafted Quez Watkins in the sixth round of the 2020 NFL Draft. He was activated mid-way through the season, playing in six games. He totaled seven receptions for 106 yards and one touchdown.
However, since the beginning of training camp, Watkins has made high strides. Besides being exceptionally quick, he's versatile and can get his hands on the ball.
Last week Watkins stated, "This whole offseason, I just made everything personal. Everything people said I couldn't do. 'I was only fast.' I just made everything personal and put the work in."
The 23-year-old put himself on the map after his 79-yard touchdown against the Pittsburgh Steelers during Preseason Week 1. Quarterback Jalen Hurts stated, "That guy [Watkins] is not a secret anymore." And fans can't wait to see what's next.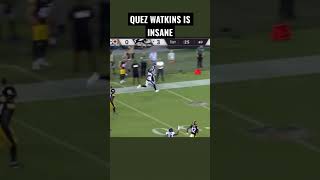 KENNETH GAINWELL: RUNNING BACK
During Philadelphia's last preseason game against the New York Jets, NFL's Ross Tucker stated that Gainwell gave him "serious Brian Westbrook vibes." Whether his comment is a worthy prediction or a far reach, big things are coming out of Gainwell this season (and beyond).
Kenny G. played two seasons at Memphis, finishing with 1,550 rushing yards, 662 receiving yards, and 17 total touchdowns. The Eagles drafted him in the fifth round in the 2021 NFL Draft. He's quick on his feet, agile, and plays with an overwhelming burst of speed.
JAVON HARGRAVE: DEFENSIVE TACKLE
Defensive tackle Javon Hargrave will be entering the second season out of his three-year deal with the Philadelphia Eagles. Last year, he started in 11 games, totaling 38 tackles, 4.5 sacks, and one forced fumble.
After suffering a pectoral injury, Hargrave is back and healthy.
He stated, "I feel like we're going to wreck things this year." He not only hopes to get back to his career-high sacks from 2018 but has had a strong training camp.
During Philadelphia's first preseason game against the Pittsburgh Steelers, he forced a pressure on their quarterback, resulting in an incompletion. He also had a quarterback hit. His addition to the line with Fletcher Cox, Brandon Graham, Josh Sweat, and Derek Barnett will be a force to be reckoned with.
BOSTON SCOTT: RUNNING BACK
The Philadelphia Eagles signed Boston Scott in 2018. He was promoted to the active roster a year later when his 2019 performance earned him the backup position for 2020. He started in four games, and though he's been in the shadow of Miles Sanders, he has become a favorite in the eyes of head coach Nick Sirianni.
Scott is quick on his feet and nimble. In Friday's preseason game against the New York Jets, he faked his way down to the endzone for a 49-yard touchdown.
JALEN REAGOR: WIDE RECEIVER
When the Eagles drafted Jalen Reagor in 2020, they expected first-round quality, and unfortunately, they didn't get that. The 22-year-old played less than a full season, totaling 396 receiving yards and only one touchdown.
However, this year brought something very different. Reagor is getting to the ball much faster, completing catches, and seems to have found his rhythm. He, along with Quez Watkins and DeVonta Smith, should make an insane trio.
Earlier this month, Reagor stated, "When you're in between routes, you hear him [Sirianni] in the back of your head. You hear those guys just emphasize and preaching the thing they want us to do. I feel like it's helping us mold together as far as spacing, running routes in general, and getting open."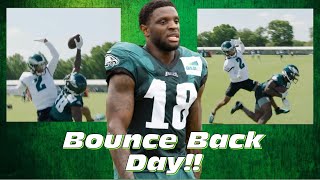 THE EAGLES' REBUILD IS UNDERWAY
The Philadelphia Eagles will make their 2021 debut in two weeks. Their first season game is September 12 at 1 pm against the Atlanta Falcons.