No matter what time of year, it seems that injuries never take a day off from haunting the Eagles. Their health woes once again took a disappointing turn when it was announced in June that right guard Brandon Brooks tore his left ACL, making it the second torn Achilles in his Philadelphia tenure.
With Brooks' injury ending his season before it even started, it was clear the Eagles needed a replacement. The Eagles are in win-now mode and having Matt Pryor, a sixth-round pick in 2018, take Brooks' starting spot would have been a dicey move.
Eagles Resign Jason Peters
Instead of signing a true guard, the Eagles resign Jason Peters to a one-year deal. Peters will be making the move to tackle, giving up his long-time position at left tackle to Andre Dillard. While the Eagles are filling a hole, are they relying too much on an aging player?
Strengthening the locker room and line with an intimidating force
There are reasons for both the team and fans to be optimistic. The 38-year-old Peters has always been a team player and leader in the locker room. He's never been afraid to stand up to others when he feels one of his teammates has been wronged. Just ask Washington.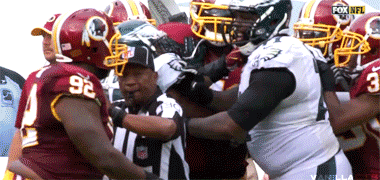 With Malcolm Jenkins having left for New Orleans, the team needed a vocal presence that can also continue to act as a mentor. Considering the rumors swirling that the Eagles have talked about trading Dillard, the assumption is that anything that can help the former first-round pick continue to grow and live up to his potential would be more than welcomed.
There is also the argument to be made that Peters still has juice left in him. The nine-time Pro Bowler gave up just three sacks in 2019, and he was given a season grade of 82.4 by Pro Football Focus. Plus, his transition to guard might be a smooth one thanks to playing in between Jason Kelce and Lane Johnson.
Peters provides the Eagles with more depth for their offensive line, which lost trusted backup Halapoulivaati Vaitai in free agency. If Dillard struggles, Peters could easily move back to left tackle, although this wouldn't be a preferable scenario.
Does Father Time have Peters' number?
Of course, there are questions and concerns that come with the reunion. Bringing back "The Bodyguard" contradicts a number of statements Howie Roseman has made this offseason. Roseman explained that one of his faults as general manager was "getting attached" to players.
That quote isn't a revelation. The Eagles attachment to Darren Sproles led them to resign him in both 2018 and 2019 after playing three games in 2017. He played just 12 games out of a possible 32 games in those two years. Just like with Sproles, Howie seems to have a soft spot for Peters:
Howie Roseman on Jason Peters: "He's not a normal human being. He's a freak. Future Hall of Famer. Normal rules don't apply to him." #Eagles

— Brandon Lee Gowton (@BrandonGowton) February 27, 2019
Roseman also stated that one of the team's goals heading into 2020 was to bring in more young talent. This is certainly a smart mindset to have when remembering that the team ranked as the second oldest in the league in 2019 with an average age of 26.1. The problem with older teams is that the risk of injury becomes greatly increased. The Eagles have enough problems as it is with keeping players on the field as it is.
This move isn't for a veteran's minimum either. Peters will be making a guaranteed $3 million and has the chance to earn $6 million in incentives. That money could be going towards fortifying much shakier units like linebacker. Of course, this is certainly less costly than trading for an established guard, a la Joe Thuney of the Patriots.
It's a risky decision, but the right one
While the red flags are waving in the air, this is a sensible move. In an unprecedented offseason, bringing in new players and having them learn systems is even more difficult thanks to Covid-19 altering practices and training schedules.
If Brooks' injury came before free agency or the draft, bringing back Peters would have been a much more criticizable action. But pickings are slim as teams begin camps, and Peters was certainly one of the best remaining linemen on the market.
In the end, Peters is one of the greatest offensive linemen that have played for the franchise, and it would be beyond foolish to think he wouldn't be able to provide some value to the Birds in the wake of Brooks' injury.