The start of the 2021-2022 season is less than four months away, and Eagles fans everywhere hope that this year is different than last.
Finishing with a 4-11-1 record, Philadelphia is walking into this season re-vamped — a new coaching staff, a new quarterback, and a focus on younger, more competitive players. The team also just came off one of the best drafts they've had in years, adding nine new rookies.
So, who on offense will bring the Birds to the next level this season? Iggles writers Alicia and Drew share their choice for 2021 Eagles offensive breakout players of the year.
EAGLES OFFENSIVE BREAKOUT PLAYERS 2021
ALICIA'S PICKS
Jalen Hurts: Quarterback
Obvious? Yes. But also likely to be true.
Last season, Hurts took the field in the third quarter of Week 13, becoming the Eagles' quarterback after Carson Wentz was benched. Though fans thought this was a "one and done" deal, Hurts finished the season as Philadelphia's QB1.
Hurts' four starts weren't amazing —1,061 passing yards, six touchdowns, and a passer rating of 77.6. However, what he did do was display potential. Hurts became the second rookie in NFL history with four touchdowns and no interceptions in his first two career starts. His passer rating in those two starts also became the highest by an Eagles' rookie since 1957.
After Wentz was traded to the Colts, rumors spread about building the offense around the 22-year-old, and Philadelphia seemed to do just that. During the 2021 NFL Draft, the Eagles passed on a quarterback and instead selected wide receiver DeVonta Smith, who will become a familiar passing target for Hurts. The duo has been spotted taking reps, and despite Nick Sirianni's hesitation to name a starting quarterback, Hurts is often noted as being the last player to leave the training facility each day.
If it wasn't for Wentz's falling out, it's safe to say that Hurts wouldn't be in this position. He knows this opportunity doesn't come around often, and he is going to give it everything he's got.
Dallas Goedert: Tight End
Every other day there's news regarding Zach Ertz and his potential trade. But, whether it happens this year or next, Dallas Goedert will eventually be the Eagles' go-to tight end.
Joining Philadelphia in 2018 as the third tight end selected in his draft class, Goedert has shown steady progress. Other than Mark Andrews (Baltimore Ravens), Goedert has outperformed every player drafted at his position on a per-game basis in his first three seasons.
2019 was his best season to date with 607 receiving yards and five touchdowns; however, he finished 2020 with 524 receiving yards and three touchdowns in four fewer games.
At 6-foot-5, Goedert is a clear target for quarterback Jalen Hurts. Last season over their win to the New Orleans Saints, Goedert saw more targets than any other Eagle and tied for the club lead in catches. As a strong player with the ability to block, it's likely Philadelphia will see many plays by #88 this coming year.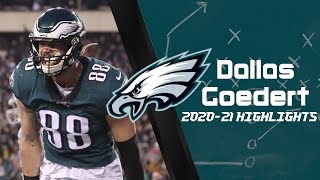 ---
DREW'S PICKS
Jalen Reagor: Wide Receiver
In hindsight, Justin Jefferson should've been the Eagles' pick in the 2020 draft. However, the fact that some people are already calling Jalen Reagor a bust seems asinine. There are two big reasons why I think Reagor could be heading for a greatly improved sophomore year: his quarterback play and his new teammate.
DeVonta Smith will be a HUGE help for Reagor. Reagor is already saying all the right things about the new first-rounder, as he's envisioning them being a great duo. Smith will likely command the attention of most teams' top corners, which will in turn take pressure off of Reagor.
QB play will also have an impact. Carson Wentz was one of (if not the) worst-rated quarterbacks in the league last season. A season such the one Wentz had greatly affected everyone's numbers. Hurts should be able to give the team a much better showing, which will hopefully affect everyone else's play.
Plus, a new coaching staff should be refreshing to a player like Reagor. Nick Sirianni has overseen some solid receiving outputs. At the very least, they can't do worse than Pederson's staff when it came to building up young wide receivers.
If Reagor can avoid injury while building up a repertoire with Jalen Hurts, he should be in line for a much better performance, which should hopefully get some fans off his back for the time being.
Jordan Mailata: Left Tackle
With long-time star tackle Jason Peters finally gone, the Eagles will need a new left-tackle to protect Hurts for the foreseeable future. That job will come down to either Jordan Mailata or Andre Dillard.
Mailata seems to not only be the favorite to win the starting gig, but to also take major steps in his second year. He showed promise during his first action in the NFL, putting up a 70.3 PFF grade. However, he allowed seven sacks, which was tied for fifth in the league. That's one area he needs to improve if he wants to solidify his starting role.
Mailata's already been receiving first-team reps, which should continue to help him grow accustomed to playing alongside the other starters in the line.
Another important factor in is Philadelphia holding on to Jeff Stoutland, the offensive line coach who was reportedly considering heading to Alabama this past offseason.
Stoutland has overseen some terrific offensive lines during his tenure here, and is credited for many linemen successes. Another coach might not have had the impact Stoutland could have on Mailata.
The Eagles' line was horrendous last year (because of both injury and poor performance), allowing Wentz to get continuously sacked. If Mailata can step up his game, Hurts will have a much easier time making throws and avoiding big hits.