How much do the Eagles want to win by?
That's the dilemma facing gamblers as the 8-0 Philadelphia Eagles host the 4-5 Washington Commanders Monday night at -10.5.
The initial number of 11 has dropped as 68% of the early DraftKings betting handle was on Washington. This reflects Philadelphia's dominance as the league's lone unbeaten team.
The Birds are laying big numbers now, which is a tall task. They were a 13-point road favorite against the Houston Texans and ended with a non-cover, 29-17 triumph last week.
Who'd a thunk it? The Eagles stacked roster are now double-digit chalk for the third straight game.
Bettors seek avenues to go around that.
One of many methods can be anchoring the Birds in wagers with other games. Bettors can use any the moneyline, spread or totals aspect of this game and essentially wheel the Birds with these other combinations.
Gamblers expect a low-scoring game Monday night, with 82% of the handle on the Under 44.

Washington has given up just more than 15 points in its last four games but the Eagles' offense has perked up too.
We'll start there.
Here's one way a totals player could attack this game.
Let's say you tweak the total down to 40 and take the Over. That's not worth it as one bet. But you can make that an anchor, tossing in other games to increase the parlay and get a price.
The upside: the win probability in each game is increased by the alternate total. The downside: you have to win everything to win anything
The same principle can be applied the other way (move the Eagles line up to 48 and go Under) or use any combo of game totals and alternate spreads.
Here's another one, with moneyline samples, at DraftKings.
The Eagles to merely win and the New York Giants to cover -2 against Houston is -106.
The Eagles, Miami Dolphins, the Giants and San Francisco 49ers (laying 7 to the Los Angeles Chargers), in a 4-team moneyline parlay, pay +265. No fuss, no muss, no cover.
Wherever bettors find it, a second or third selection centered around the Eagles is one way to make money on a difficult Iggles gambling line.
The Backdrop
Because the Birds play on Monday night, the books will be putting up a majority of wagers over the weekend.
DraftKings put up its first game prop with Jalen Hurts and Miles Sanders to each score a rushing touchdown. It pays +275.
Why bettors will consider it: Hurts hasn't scored in three games and could be due. Washington has a stingy defense and may force a play like this. Sanders has been solid as a rock and the Eagles might be playing downhill, encouraging the run game.
Why bettors may pass:
It might be easier to take one of them as an anytime scorer. That prop pays less but demands less. You need two things to happen here. It would be frustrating to have one of these players reach the end zone and not collect.
Anytime Scorers
Hurts, Sanders, A.J. Brown, DeVonta Smith and Dallas Goedert will be listed, along with Kenneth Gainwell. The question is whether bettors like the price. Hurts is treated like a running back on these props now.
Misdirection idea: Smith is due for a big game. Not only has he scored in every third game this year (3 and 6, this is 9) but he has been quiet amid the recent explosiveness of Brown.
Although Brown has emerged as Hurts' favorite target, it may be time to show DeVonta some love Especially if the Commanders put multiple defenders on the hot receiver.
The first touchdown scorer also is a popular longshot prop.
The key is to keep it in budgetary proportion.
Another focus is Taylor Heinicke, the Washington quarterback. Unlike Carson Wentz, whom he has replaced for now, Heinicke is mobile and can keep drives alive by running.
Like Wentz, he can throw ill-advised balls. Watch for over-under props on interceptions and turnovers and see if the price is right.
The FanDuel Board
Can both teams score at least 15 points? The Yes is +106 and the No is is -116.
There are some bettors who will slam this on either side and call it a day. All it takes is one good bet with enough money on it to launch a profitable week.
The score first and lose prop bears this out too. If Washington scores first and the Eagles win, that's +230, significantly less than other games in this realm.
This is interesting because Washington has scored first just once in nine games. Once. You would think this would be a bigger price. The book has factored in the possibility of Washington getting the ball first and getting on the board before losing.
Some Eagles bettors may consequently think Philadelphia to score first and win at -130 is a gift.
Lighting rarely strikes twice, but a repeat of last week, with a tie at the end of the first half followed by an Eagles victory, is +1600.
Good luck finding your alternative betting universe.
Check Out Why Eagles Why
Pete Amato, Bill Gelman, and myself analyze the Eagles and the NFL every week.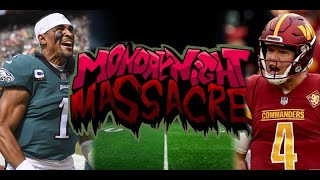 Reactions to the Birds, the bets and the expectations of a team sitting by itself atop the NFL are all part of our latest episode. Give it a look.
Good luck finding your alternative betting universe.