Eagles' Brandon Graham is now Philadelphia's longest-tenured athlete. The defensive end made his debut in 2010, and is still going strong 12 years later. He surpasses Flyers' captain Claude Giroux who was traded last Saturday to the Panthers.
A DIAMOND IN THE ROUGH
The Eagles selected Graham in the first-round of the 2010 NFL Draft, after parting ways with three picks to the Denver Broncos in a successful attempt to trade up. Graham was signed to a five-year, $16,90 million contract, making his NFL debut in Week 1.
That year he suffered an ACL injury, ending his season early. After undergoing surgery, he missed the majority of the following season, only playing in three games. Though many thought Graham was a bust, he returned for the 2012, missing only one game through 2020.
In 2015, the defensive end turned linebacker, signed a four-year $26 million contract extension. He became a full-time starter, finally detaching from the comparisons to Earl Thomas and Jason Pierre-Paul. Hey, when it rains, it pours, but there's always a rainbow at the end, right?
Graham posted a career-high 59 tackles in 2016 and was rated the ninth-best player in the NFL.
He returned to defensive end the following season, setting another career-high — 9.5 sacks. That season, Philadelphia completed their Super Bowl run, becoming champions for the first time in franchise history. During the fourth quarter, Graham strip-sacked then-Patriots quarterback Tom Brady, forcing a fumble recovered by Derek Barnett.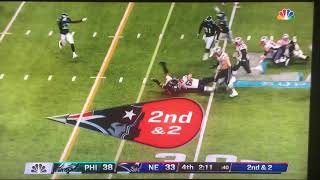 The sack is historic in Philly and not many players can say that.
Despite another surgery in the 2018 offseason, Graham signed another extension with the Eagles in early 2019 — this time, a three-year $40 million deal. Between the 2019 and 2020 seasons, he totaled 96 combined tackles, 16.5 sacks, three forced fumbles, and three fumble recoveries.
Graham earned his first Pro Bowl in 2020, signing a one-year contract extension in 2021.
Unfortunately, in Week 2 last season, he suffered a season-ending Achilles injury.
MORE YEARS TO COME
Graham is expected to return for the 2022 season and though he turns 34 years old this year, he's under contract through 2023.
"Man, it feels good," Graham stated in a text message to NBC Sports Philadelphia. "And I hope I can be here a couple more years to try and get to 15 (years) before I pass the torch to somebody else."
His positive outlook and his relationship with his teammates has made Graham a fan-favorite in Philadelphia. We're all certainly looking forward to his return.