In less than two hours, the much-anticipated 2021 NFL Draft will kick off.
After coming off a 4-11-1 season, Philadelphia is looking to make a comeback. Whether it be at the No. 12 spot or in the top ten, all eyes will be on the newest incoming Eagles player.
In a pool of talent, wide receiver DeVonta Smith is prepared to sport midnight green if the opportunity presents itself.
THE POSSIBILITY OF A REUNION
DeVonta Smith, who played at Alabama, started as a true freshman in 2017. His quarterback that year — Jalen Hurts.
Earlier this week, Smith told CBS Sports, "It would be great (to catch passes from Hurts again). Jalen is a very talented quarterback, and I'd love to play with him. He is a competitor and going to give you a chance to win every game."
The duo completed 12 passes and one touchdown for 213 yards together.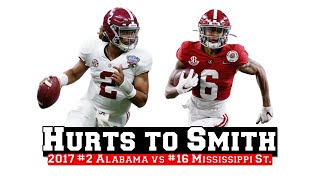 During Smith's collegiate career, his stats steadily increased. He eventually won the Heisman Trophy his senior year in 2020.
2017: 8 receptions, 160 receiving yards, 3 touchdowns
2018: 42 receptions, 693 receiving yards, 6 touchdowns
2019: 68 receptions, 1,256 receiving yards, 14 touchdowns
2002: 117 receptions, 1856 receiving yards, 23 touchdowns
GOOD THINGS COME IN SMALL PACKAGES
Smith, who is 6 feet, and 170 pounds, has been battling headlines regarding his weight since college, and he isn't concerned.
He stated, "To me, that's an old story by now. I don't think any teams are concerned about it; if they are — talk to my coaches, see the film and look at the numbers."
And he's right. A smooth route runner, Smith also has body control and quick feet. He would be an instant upgrade to the group of wide receivers on Philadelphia's roster.
Smith states, "(They'll get a) hard worker. A dedicated, committed, and competitive player that will do whatever it takes to win. It's a great organization, and their fan base is second to none."
After losing DeSean Jackson and Alshon Jeffery earlier this year, the team is in need of some help at the wide receiver position. Though general manager Howie Roseman has never mentioned Smith directly, there's no telling where the chips will fall. On a previous conference call, Roseman stated, "Good players come in all shapes and sizes. And so we're not going to discriminate based on any of those things."
The Draft starts tonight at 8 PM.