Among Philadelphia football fans, it's the popular opinion that everyone's second favorite team is anyone who is playing the Dallas Cowboys. Since the two teams first met on the field in 1960, their rivalry within the NFC East has been unmatched.
The Cowboys currently hold a 69-53 all-time series lead against the Eagles, and while the fight continues, a larger debate exists — who has the more superior quarterback?
Carson Wentz vs Dak Prescott Breakdown
Dak Prescott and Carson Wentz both began their NFL career in 2016. Prescott, a fourth-round draft pick from Mississippi State began his career as a backup to Tony Romo before acquiring the starting position when Romo became injured.
Wentz was selected as second overall pick from North Dakota State University and became the immediate face of the Eagles following Sam Bradford's trade. Both quarterbacks' debut seasons were remarkable, and the race to domination began.
Orlovsky's case for Carson over Dak 💯 pic.twitter.com/eooQdgrPWP

— SPORTSRADIO 94WIP (@SportsRadioWIP) May 12, 2020
2016 – Rookie Rivals
Rookie year for both players provided fans with undeniable optimism.
Prescott racked up 3,667 passing yards with 23 touchdowns and only 4 interceptions. Leading his team to clinch the NFC East title, he finished his season with a 67.8 completion percentage and a 104.9 quarterback rating. He was named NFL Offensive Rookie of the Year and was selected for the Pro Bowl.
Wentz finished with 3,782 passing yards, 16 touchdowns, and 14 interceptions. Despite an inferior completion percentage, his 379 completions were a lead record for a rookie, earning a single-season franchise record. A second single franchise record was also achieved with 607 pass attempts, the second-highest by a rookie in league history. Wentz was also awarded NFC Offensive Player of the Week in Week 3.
Regardless of his achievements, he finished with a 79.3 quarterback rating.
Although a close race, Prescott takes 2016.
2017 – 'Super' Sophmore Showdown
Without even looking at statistics, Wentz wins sophomore year, but for practicality, let's explore them anyway.
Prescott finished his season with 3,324 passing yards, 22 touchdowns, and 13 interceptions. His completion percentage remained higher than Wentz's at 62.9, but he outright lacked aggression.
Wentz closed out the year with 3,296 passing yards, a whopping 33 touchdowns, and 7 interceptions in 13 games as opposed to a regular 16-game season. He was named NFC Offensive Player of the Week in Week 7.
Prior to a knee injury, he was the front runner to win MVP and he led the Eagles to an 11-2 record, which paved the path to Super Bowl LII. Wentz's quarterback rating soared to 101.9, and he was selected for the Pro Bowl, but could not participate.
2018 – Philly Tough
The competitive intensity continued into the third year.
Prescott won the NFC East for the second time in his career and earned his first playoff win against the Seahawks. He was also selected for the Pro Bowl once again. He finished with 3,885 passing yards and 22 touchdowns. His completion percentage rose to 67.7.
Before the start of the 2018 season, Wentz was ranked third in the NFL Top 100 Players for the year; however, he missed the first two games due to his preceding injury. Mixed emotions rang through Philly as Wentz took the field again and ultimately finished the season early for a back injury with a 5-6 record.
Despite the misfortune, he completed 3,074 passing yards and 21 touchdowns. Within the 11 games he played, he finished with his highest completion rate, highest yards per attempt, and highest quarterback rating to date.
This may bring some heat, but Wentz wins 2018. The emotional rollercoaster Philadelphia went through was rough, but numbers don't lie.
2019 – Wentz Quiets Doubters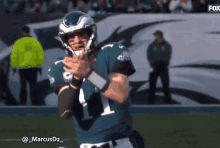 Closing out the most recent season, Prescott brought a noticeable shift to the league. He achieved his personal best with 4,902 passing yards, 30 touchdowns, and 8.2 average yards per attempt. Named as NFC Offensive Player of the Week on two separate occasions, he excelled against opposing defense.
Wentz returned for a full season and gave everyone a run for their money. With 13 teammates on the injured reserve list and a b-squad WR crew, he finished the season with 4,039 passing yards and 27 touchdowns, securing the NFC East title.
Despite Dak's record plays, it's difficult to predict whether he could pull off the same statistics given Carson's situation.
Wentz triumphs.
Carson Wentz vs Dak Prescott 2020-2021
Much of the comparison lies in the effort of a healthy quarterback versus one prone to injury, and Wentz has continued to hold his own, proving himself as physically gifted. Moving into 2020, the Cowboys have the 6th best roster in the league, compared to the Eagles, ranking 9th.
As for who will lead their team to a division win this year, Wentz and the Eagles will take the title. No matter the roster, Wentz is adaptable. Carson Wentz has a higher ceiling with much more to offer than Dak.
According to most NJ online sports betting sites like FanDuel Sportsbook, Wentz has been given the sixth-best odds at +1700 to win the league MVP, tying him with Deshaun Watson.
The Cowboys look to Zeke when they need a big play. The Birds look to Wentz. Prescott has become too comfortable in the pocket, and without risk, there is no reward.